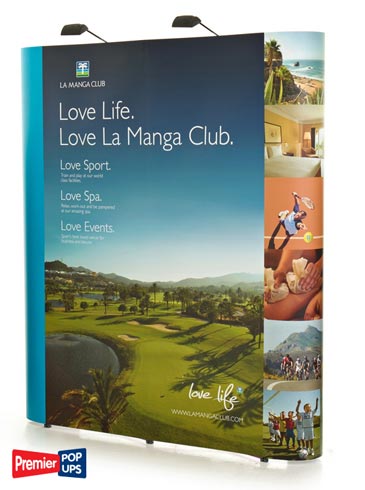 Straight Pop Up Stands are the ideal system as an exhibition backdrop to advertise your business, allowing you to use your other exhibition space to display your products. When we are advising our customers on what Pop Up Stands to use, we recommend the Straight Pop Up Stands for organizers who want to represent large number of products on a single Display Stand. The main advantage to the Straight Pop Up Stand is that they offer the largest display area to represent your advertisement whilst helping you to make the most of your space.
Straight Pop Up Stands are such a versatile Display Stand, suitable for use in most locations. So whether you are looking for a stand for your showroom or even needing a backdrop for your photography studio, the Straight Pop Up Stand is the stand for you.
All Straight Pop Up Stands supplied by Go Displays are part of the Premier Pop Up Stand family and come complete with Pop up Display Stand frame, Printed/laminated Pop Up Stand graphics & Wheeled Pop Up Storage Case


Straight Pop Up Stands from Go Displays
Straight Pop Up Stands from Go Displays have been a particular favourite for exhibitors for many years. We are able to keep our prices so competitively low as we manufacture and design the entire Pop Up Stand, from the framework to the printed panels. Straight Pop Ups are often used as backdrops on exhibitor's stands to allow them to maximise the space they have, but there are many different places you could use a Straight Pop Up Stand.
Straight Pop Up Stands are ideal for anyone attending a small event because they only require one person to assemble ready for the show and it only takes a few minutes! When you've leaving your Exhibition you won't need to worry about your Straight Pop Up Stand being complicated to pack away; the complete stand will fit into your wheeled graphics case. The stand itself is lightweight and easy to transport, so you'll have no problem travelling with your Pop Up Stand to all of your events. Like all our other Pop Up Stands the Straight Pop Up Displays can also be double sided, giving you even more space to advertise your company.
A Deluxe Straight Pop Up Stand includes Pop Up spotlights, a wheeled Pop Up storage case and a printed graphic wrap which fits around the Pop Up Stand case turning it into a counter for your stand.
Want help designing your Straight Pop Up Display Stand?
At Go Displays we offer an in-house Graphic Design service available for all our customers. We work closely with our customers to create your perfect design for your Pop Up Stand, based on your ideas and requirements. We aim to make this one less job you have to worry about, so when you're ordering a Pop Up Stand the process is as smooth as possible.
For anyone who is not sure what design they would like on their Pop Up Stand we also have a template Graphic Design service available. This service allows you to choose from our stock Template designs that are customisable with your company logo, choice of text and your images. If you're on a tight budget with your Pop Up Stand this is the ideal opinion for you.
Within our Graphic Design department we also have an extensive image library that is available for anyone using our Graphic Design service, where you'll find a wide variety of high resolution images. So even if your images are low quality, it doesn't mean your Pop Up Stand has to be, with a little help from Go Displays.