Green & Sustainable Marketing
As individuals and businesses, we're becoming conscious of the choices we make and the impact these have on the environment. As a business the reality of being a green or sustainable company isn't a quick fix and requires green and/or sustainable marketing. But what are the difference between the two and what could this mean for your business?



What is Green Marketing?
Green marketing is potentially easier to achieve as it's building an image of a business that appears to be environmentally friendly and reaches out to a like minded audience. This is where it can get tricky, as green marketing is just the tip of the iceberg but still requires a change to the marketing messages, products and production.
Greenwashing is a term that's used for companies that put out a sustainable image without being environmental at the core of what they do! As a marketer it's important to know the impact of both strategies and how this can affect what you have to offer and how you market your brand.
What is Sustainable Marketing?
Sustainable marketing is how you're able to take the next step with being an eco conscious business with dedication and long term marketing plans. It involves creating awareness of sustainability and what you're implementing for a better future. Sustainability goes deeper and includes all topics economically, socially and environmentally.
Sustainable marketing requires attention in multiple areas such as product development, marketing strategy, branding & advertising and education and awareness.
Considers environmental impact of company's product or services

Sustainable marketing focuses on environment impact and attempts to consider the social and economic impacts.

Requires future plans/pledges for improvements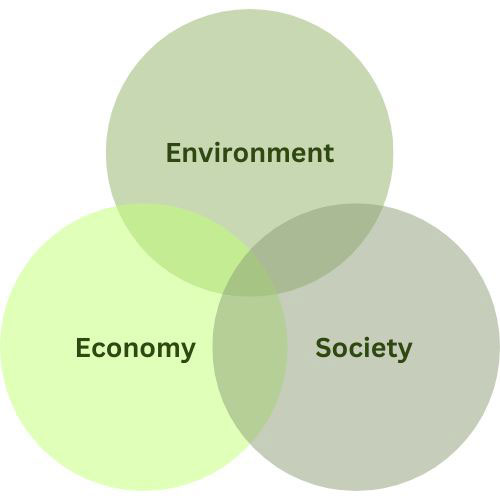 Environmental Sustainability
Responsible for conserving natural sources and protecting the worlds ecosystems, supporting us now and in the future.
Economic Sustainability
Practices and processes that support long term economic growth, without negative effects to environmental & social aspects of the community.
Social Sustainability
Identifying and manage the negative and positive impacts your business has on people.
What changes have Go Displays made?
As a business, we've looked at the products we have & the materials and processes we use. We've been able to pin point our most eco-friendly products by determining what can be recycled and what percentage of the display will end in landfill.
Whilst not every product can be 100% recyclable, Go Displays strived to add a fully recyclable and eco-friendly display system that can be reused and most importantly, recycled. Printed on to the sustainable materials, water-based inks are used which are better for the environment, in replacement of solvent based inks.
We source high volumes of materials in the UK, to reduce emissions, limiting the amount of travel our material need and support locally where we can. As a manufacturer, we create waste, however it's what we do with that waste that matters. We use as much of each material as physically possible and recycle all accepted cut offs or left over product.
Some of our larger display products and partition screens require a pallet delivery. Our pallets are made on site using wood and chipboard for the main construction, all of which are recyclable materials. Where we can, we'll reuse or repurpose the pallets before recycling.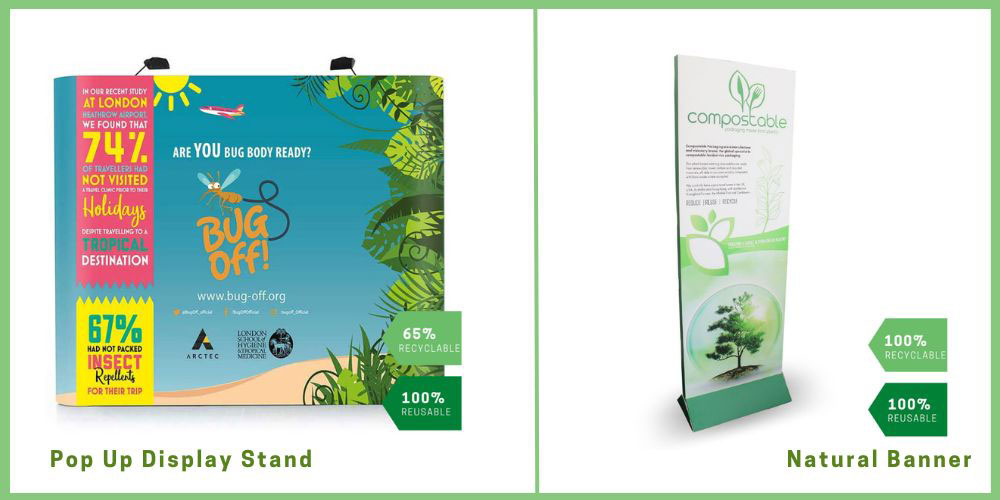 What can Go Displays do to help with your green and sustainable marketing?
We noticed a gap in the market when it comes to tradeshows and exhibitions and as a business who would also like to make changes to positively impact the environment, we wanted to give this option to our customers too!
Eco-friendly Exhibition Stands and Accessories are fairly new and aren't widely offered, which is why we wanted to grow and develop a range that was tailored to green and sustainable businesses.
We've been providing exhibition panels and displays over the years, and understand that often the printed and laminated prints are showcased once, then sadly discarded. Whilst we encourage the reuse of all our products (including eco products), if the cardboard or fibreboard products are used once, it's possible to recycle without any or as much waste ending in landfill.
What we bring to the market are eco conscious marketing tools that can demonstrate beyond the artwork what your business is about. Stepping away from printed flexible medias and laminate panels, fibreboard enable strong, reliable and outstanding designs without compromising on the visual impact.
It's possible to achieve a design with vibrant panels, arches, storage cupboards and display accessories that communicate your efforts of green or sustainable marketing. Making pledges and long term promises with eco-friendly, recyclable and reusable materials show the depth of commitment from your business and gives a small glimpse of what you'd like to achieve.
As part of developing an eco-friendly and sustainable exhibition display range, we've touched on how we hoped the panels and displays would be reused. But how can you get the most out of an eco-friendly display stand?
The reality of eco-friendly products is they require slightly more care. Instead of rolling panels and keeping in a storage case, the panels or parts of the eco-friendly exhibition stand and accessories need to be dismantled to a flatpack position and stored carefully.
The sustainable materials should be kept in dry conditions and laid flat where possible to eliminate any bending or curving of the panels. Transport and storing also needs to be taken into consideration for the larger panels, as the eco-friendly panels won't bend or curve and will remain at full height even when dismantled.
Choosing the right type of eco-friendly exhibtion display stand to effectively exhibit your branding along with your green and sustainable intentions can be harder if you're unfamiliar with the available materials. Luckily, we have a dedicated team on hand to assist with your queries and help design the best stand for your stand space.