3m x 4m Exhibition Stands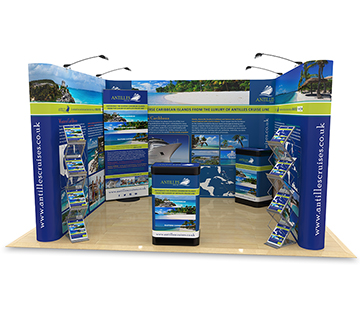 The 4m x 3m Exhibition Stand Design integrates all the tools you are likely to need when building an eye-catching display stand. With various designs featuring pop-up exhibition stands, banner stands and a host of accessories, our pre-built exhibition stand bundles integrate everything required. These are all designed with the idea of 'ease of use' at heart, so not only is the 4m x 3m Exhibition Stand Design easy to set up, but it's also simple to transport to your event.
We base each 4m x 3m Exhibition Stand Design on the feedback we've had from clients in the past. This is why every bundle below features an impressive and professional appearance while reducing the logistical nightmare which is commonly associated with exhibiting at events. Each display tool includes its own portable storage case, reducing the burden on you when travelling to an exhibition.
To create excellent exhibition stands every time; we design, print and manufacture each 4m x 3m Exhibition Stand Design in-house. This allows us to keep a close eye on quality control and guarantee that every bundle we dispatch is of the optimal quality. So, from the structure of the stand right down to printing the graphics, we offer to create a reliable exhibition stand which is ready to go as soon as it arrives.