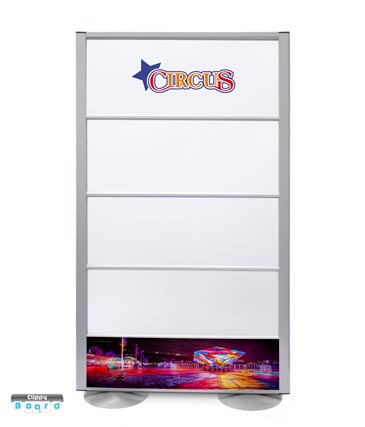 Notice Boards are one of the simplest ways to display messages, announcements and information. We have a diverse selection of free-standing and wall-mounted Notice Boards which are individually manufactured in-house. This means there are a wide variety of sizes and personalisation options available. If you require a unique design which is not available on our site, then get in touch for further information.
Our Wall Mounted Notice Boards are manufactured with quality materials to ensure they remain a permanent fixture for many years to come. For example, we use a loop-nylon fabric, which is ideal when you are applying content with pins as it is resilient against damage. Furthermore, this fabric is available in a variety of different colours, allowing you to add your own personal touch when customising a notice board.
We then produce a variety of different free-stranding Notice Boards. These are designed with the user in mind and each is manufactured with high-quality materials to ensure they are safe and sturdy when in use. For example, with the Universal, Panelfix and Linx display boards, the framework is created with aluminium, which is extremely robust. If you would like further advice on the best option, then please get in touch by calling 01733 232000 or send an e-mail to sales@go-displays.co.uk.
Why Buy Notice Boards from Go Displays?
As the manufacturers of all the Notice Boards featured, we are committed to creating displays which are designed to last. This is achieved by introducing quality materials throughout the manufacturing process. Not only does this create a display which is solid and resilient, but also has a fine finish which helps your display to stand out. Furthermore, we have a variety of fabrics on offer, ranging from pinnable finishes to Velcro-friendly solutions.
The Clippy Board is a unique solution when it comes to Notice Boards as it introduces a clippy rail for displaying content. This allows your leaflets and announcements to be displayed in a more professional manner, making it ideal for use by businesses and organisations. The Clippy Board is available in a variety of sizes to ensure that your content gets noticed.
To complete the notice board, we also have a selection of solutions which can enhance the display. For example, printed posters are an ideal way of producing a high-quality notice board. We also have our own graphic design team to provide those final few professional touches to any display. From bespoke graphic design to customising notice boards, we're here to help. For more information, please give us a call on 01733 232000 or send an e-mail to sales@go-displays.co.uk.
Need help with the graphics for your Clippy board?
If you are looking for graphics which fit the base of the Clippy Board or you simply want a customised graphic as part of the Notice Boards, then our in-house graphic design team are on hand to produce the Clippy Board you require. Whether you simply need a previous graphic to be adjusted to fit the Clippy Board, or you need a completely new graphic, our team is equipped to provide what you need.
If you would like to know more about the Graphic Design options for the Clippy Board or you have any further queries about our Notice Boards, then please give our team a call on 01733 232000 or e-mail sales@go-displays.co.uk.