3m x 6m Exhibition Stands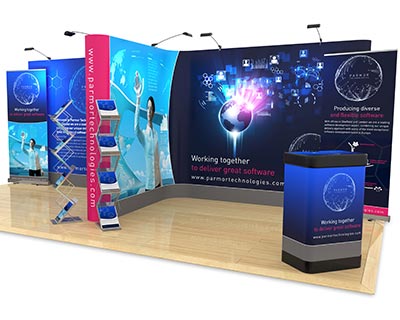 With our 3m x 6m Exhibition Stand Design, we offer a selection of unique ways to create a stunning exhibition stand. This particular stand size can offer a large space without much room to manoeuvre. To address this, we have tailored our designs to ensure you are able to make the most of the space which you have available. 
With Pop-Up Stands, Banner Stands and Leaflet Dispensers included as standard, each 3m x 6m Exhibition Stand Design incorporates a few different display tools. Despite the overall size, all the components we include have been designed to pack away neatly, thereby ensuring they are easy to transport to and from different events. With the portable storage cases, these can even be quickly transformed into promotional counters to supplement your display.
Each 3m x 6m Exhibition Stand Design is manufactured and printed here at Go Displays. Firstly, this allows us to guarantee the quality of all the exhibition stands we produce. Then, it also means that we have greater room to manoeuvre when it comes to customising your display. If you have a unique idea in mind, then get in touch! To do so, please call 01733 232000 or send an e-mail to sales@go-displays.co.uk.