Panel & Pole Display Boards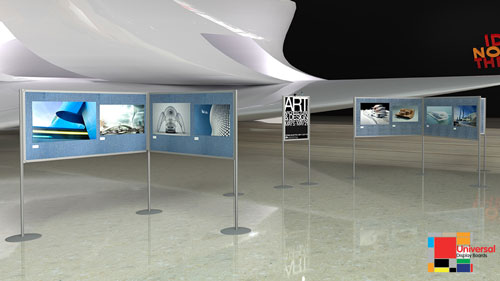 Our Panel and Pole Display Boards are ideal for any indoor exhibition or trade show on the horizon. We manufacture our presentation boards to ensure they are designed to last for many years to come, giving you a display which will excel at many events and exhibitions.
With our presentation boards, we provide you with a range of customisation options to mould a display board which is suited to your needs. We have designed our panel and pole display boards to allow you to set up your display boards quickly and effectively, so you can spend more time presenting and promoting your organisation and content.
As the panels and poles feature an intuitive locking design, this guarantees they are straightforward to use which subsequently removes any stress which would have resulted from setting up and packing away traditional display boards.
What's more is that these panel and pole display boards also come with a five-year manufacturer's guarantee from Go Displays and if you order one of our special offer display boards, you can expect to get it dispatched the very same day.

Please Note: For more information on what each panel & pole display is capable of, please click here or scroll down below for a checklist.


Why buy Panel and Pole Display Boards?
Promote, present and advertise with the Panel & Pole Display Boards from Go Displays. With minimal effort and the best display, you can improve your brand and your business with the help of our custom-made display panels.
The panel and pole display boards are a unique and effective marketing tool for your business and could be a great investment for you. Not only do display boards offer you versatility but it also means that for any events or tradeshows, or even your office you can use the multiple panels of the to show the full scope of your business branding and the services you offer. With the ability to use the panels of the display board in either landscape or portrait, and a variation of sizes and kits, you will be spoilt for choice with the panel & pole display boards. Our display boards are available in a range of loop nylon fabric colours, allowing you to use self adhesive hook dots or tape to attach your promotional material so there's no need to use pins.
If you're looking for a sturdy display to house your graphics, then at Go Displays our panel and pole display boards can also be printed. Using your custom artwork, we print directly onto the panels using high quality pigment-based inks. Our printed pole and panel display boards will give you that professional finish to your stand.