About our Folding Display Boards
At Go Displays, we pride ourselves in producing Folding Display Boards using high-quality materials so that your presentation board can be used as effectively as possible. All our displays are created with a lightweight honeycomb core which is pressed under extreme pressure to make it strong and robust. We then apply your choice of finishing material to the display boards to complete the order.
The Folding Display Boards consist of an array of display boards from the Event Range. With a simple folding mechanism, the Event Displays boards are easy to assemble and can be stored away within minutes. Available as 4 – 8 panel size when selecting a freestanding style or 2 & 3 panel size when choosing a tabletop solution.
View assembly details - Here
When selecting the freestanding Event Display Board, you'll be provided with 2 runs of display panels. The 2 halves of the display boards are connected together by stacking one set of boards on top of the other and securing in place with the supplied locking clips. However, if you only wish to use 1 row of the display panels, it's possible to create a single tier table top display board.
Transporting and storing the Folding Event Display Board is just as important as using the boards. Available as an additional item, a carry bag will make the travelling and storing process easy and ensure the display board remains in good condition.
There are 2 versions of the Event Display Board, we have the standard and Event+ to meet different needs. Loop nylon fabric upholsters the standard Event Display Board design and accepts hook self-adhesive fixings to allow attaching of printed material. The Event+ is complete with a woven fabric and is compatible only with pins. We wanted to make sure you're able to maximise the display space, so you'll find fabric on both sides of the display board for a double-sided display system.
Regardless of the freestanding and table top design, the panel sizes remain the same. Each panel is 933mm x 687mm, but the visible area for any attachments or posters is 900mm x 643mm.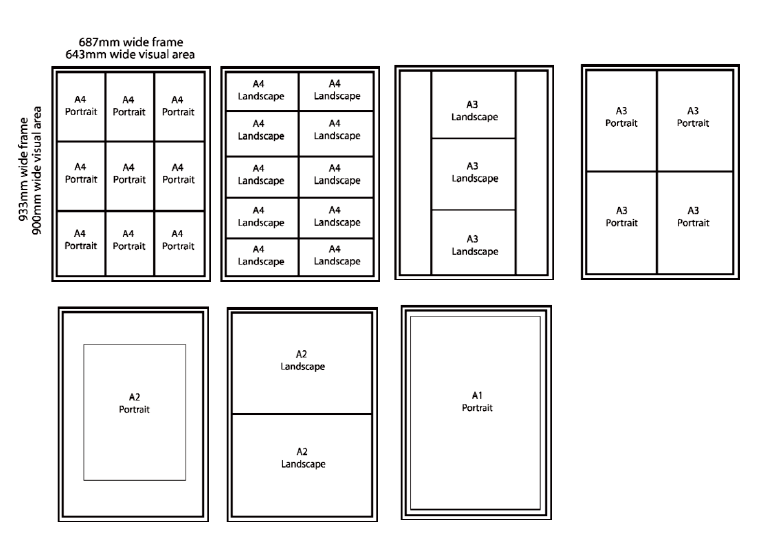 Why Buy Folding Display Boards from Go Displays?
Development and manufacturing of all the Folding Display Boards takes place at our premises in Peterborough. At Go Displays, our aim is to create quality presentation boards using quality materials at the best possible prices which we can then pass on to our customers. To ensure we hit that goal, all the folding displays we dispatch comes with a two-year guarantee, so you can rest assured that each of the display boards are designed to stand the test of time.
When you receive your presentation boards, they are designed to be set up within ten minutes so you can focus on exhibiting. All the tools you will need are included in the box; all you are required to do is add the clips and lock the panels together, it's as simple as that! Packing away the display only requires reversing that process so you can spend more time reflecting on the results of your exhibition.