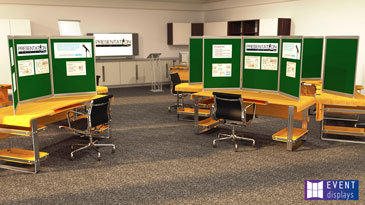 Table top display boards provide a compact and lightweight option when exhibiting and presenting. Here at Go Displays, we pride ourselves on being able to offer bespoke, custom made table top displays to give you as much choice as possible. Our desktop displays are available with various amounts of panels in different sizes as well as colours and materials.
At Go Displays, all our table top display boards are designed and assembled on site at our premises in Peterborough and we guarantee that all our display boards will be dispatched within five working days from when you order. We take care to use only quality materials with each display to ensure the material will be resistant to fraying and tearing. Additionally, this is why we include a five-year guarantee with all of the table top display boards we dispatch.
In terms of setting up and packing away the display boards, the 360-degree hinge design of the panels makes this process absolutely effortless. We also offer carry cases for the table top display boards, so if you are travelling from event to event, the boards can be neatly tucked away in the bag and carried with you.


Why use a Table Top Display Stand?
Our Table Top Display Stand is a simple way to present but packs a punch. By incorporating our 360 degree hinges, each Table Top Display Stand is effortless to set up and pack away, allowing you to fully focus on your presentation. If you need a Table Top Display Stand at short notice, then we are committed to dispatching your display stand to you within three working days of your order.
With every display stand assembled in-house at our site in Peterborough, we can design the perfect Table Top Display Stand to suit your needs. If you decide you want three panels with your Table Top Display Stand, then we also offer a central landscape panel if you're looking for more of a dominant impact. As we produce each Table Top Display Stand in house, we check the quality of every display stand throughout to ensure they are built to be used over and over again.
When designing the Table Top Display Stand, we focused on creating a flexible system for setting up and packing away to make it as straightforward as possible. Once you receive your display stand it is simply a case of attaching the Table Top Display Stand panels together and securing the locking clips, then you are ready to start.
Looking to make your Table Top Display Board stand out?
We supply our table top display boards with your choice of four materials. Upholstered in a standard loop nylon fabric, making it simple to attach material to the panel using the included self adhesive hook dots. If you are looking for an upgrade for table top display boards then we offer Event+ fabric which is pinnable, giving you a more durable solution for your display boards. Also on offer is an Easy Clean laminate, allowing you to design your own presentation using dry wipe markers. This can be applied to individual or all panels of the display.
To fully customise your table top display boards, the panels can be manufactured to suit your specifications. This also gives you the option to choose between two or three panel desktop displays. Likewise, with the three panel displays you also have the option to select a landscape centre board to give your table top display board a large focal point.
To complete your customisation, we also offer to include a header with your order which simply clips on to the top of the central panel, providing an additional dimension to your table top display boards.
Why Buy Table Top Display Boards from Go Displays?
Table Top Display Boards are a compact and highly portable way to resolve your display problems. The simple design makes the Table Top Display Boards effective as an exhibition tool, notice board and more. The added bonus is that each panel is designed to be lightweight, which allows them to be taken with you wherever you go. With all of the Table Top Display Boards, we include a protective sleeve to ensure the quality and longevity of the panels when you are on the move or when they are not in use.
For Event Table Top Display Boards, we apply a loop nylon fabric to the panels. You can choose from ten different fabric colours in order to complement the design of your display. The Table Top Display Boards are also available with a pinnable core, high pressure laminate finish or even with printed panels, allowing them to be personalised to suit you. Whichever you choose, all of the Table Top Display Boards are designed and manufactured with longevity in mind and therefore each includes a five year guarantee.