Dispatched in 3-5 working days from receipt of order and artwork

Designed and manufactured in the UK by Go Displays.

All Pop Up Stands supplied with pride and include a ten-year manufacturer's guarantee.

Includes 4 graphic display panels, the pop up hardware, 

pop up portable display case

.

Midi 3x2 Pop Up stand is 3 cubes high x 2 cubes wide, not 3 metres x 2 metres.

Deluxe upgrade includes 

graphic wrap

, 

display spotlight

 & 

counter top

 of your choice.

Graphics are laminated to create a scruff resistant surface.

Graphics simply hooks over the top of the frame, allowing for a quick change of graphics.

Every pop up is digitally printed in-house using high quality pigment-based ink.

500 micron Pop Up panels, printed on a stoplight film and matt laminate finish

Midi 3x2 Curved Pop Up footprint size is 1850mm high x 1670mm wide x 460mm deep

Still not convinced? Come along to our showroom in Peterborough to see for yourself!
The 3x2 Midi Pop Up Display is a smaller display from the Premier Pop Up Stand range with a height of 1850mm. A smaller height is useful when exhibiting in smaller, compact venues where space might be limited. But the Midi Pop Up makes the most of the space and provides the canvas you need in order to display your organisations benefits.
As part of the Midi range, the pop up exhibition display delivers a high quality stand that will create the perfect backdrop. To enhance your stand and add a personal touch, your custom print will be added to the stop light media panels. Each panel is laminated to ensure your panels can be used again at future events.
Replacement panels are available for the Premier Pop Up Stand. By investing in further graphics, you'll always have a set of panels printed when you're looking to display a new message to your potential customers.
The pop up stand uses the quick and easy pop up mechanism to ensure your display stand is up and running in under 10 minutes. With that in mind, the stand condenses down to a small form which can be transported in the supplied black wheeled carry case.
What are the benefits of the Midi Premier Pop Up Stand?
Compact size for smaller venues
Easy to transport in supplied case
Replacement panels available
Quick install process
Made in the UK
All exhibition stands and pop up displays are made and manufactured in the UK, by Go Displays.
 We recommend purchasing Stabilising Feet when using a Monitor Stand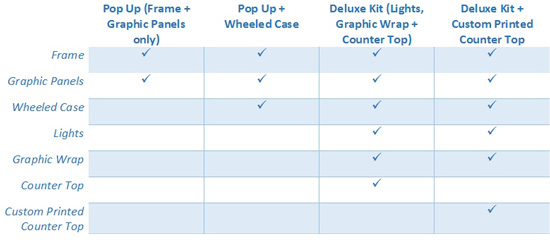 3x2 Midi Pop Up Artwork Dimensions:
Curved-Single Sided
Artwork Size = 1850mm (h) x 2446mm (w)
25% artwork size = 462.5mm (h) x 611.50mm (w)
Curved-Double Sided
Artwork Size = 1850mm (h) x 3796mm (w)
25% artwork size = 462.5mm (h) x 949mm (w)
Straight- Single Sided
Artwork Size = 1850mm (h) x 2556mm (w)
25% artwork size =462.5mm (h) x 639mm (w)
Straight- Double Sided
Artwork Size = 1850mm (h) x 3766mm (w)
25% artwork size = 462.5mm (h) x 941.50mm (w)
The artwork specifications can be found here
Please provide your artwork as a high resolution PDF with no crop or bleed
You can upload your own artwork by clicking the link below or email us at [email protected]
Click Here To Use Mail Big File

Alternatively, you can use our in-house graphic design service. We'll take the hassle from designing your stand, contact us now for a quote or select Custom Graphic Design from the dropdown option above. All we need from you is any images, logos and text you'd like to include, and we'll take care of the rest!

Watch our Pop Up video here for a detailed explanation of how to assemble your pop up from start to finish. 
You can also find our user instructions in a PDF copy for the pop up stand here
We found other products you might like!