How do NHS & Healthcare Sectors use Medical Dividers
The NHS deal with hundred and thousands of patients and it's a must that the environment remains private and extremely clean and sanitary. One way to achieve privacy and hygiene is to insert portable dividers which excel in a medical/healthcare environment. When you think about medical screening, you'll envision the older style curtain, which is still used but doesn't offer the benefits we see in the modern styles.
Medical screens can be used for so much more than just separating beds, wards, and treatment rooms in hospitals. We have collaborated with the NHS for a number of years, and as a result, we are aware of the benefits of medical screening and its significance.
How can Medical Screens be used?
Patient Privacy
Medical Room Dividers add privacy in any space, whether it be a patient room or an open space. Portable screens are popular within medical environments as privacy can be added as and when required.
As we know from COVID-19, the need to erect hundreds of vaccine pods became a large task but made possible with temporary screening. In most cases, additional screening and dividers won't be needed on such a large scale. However, they can be useful for vaccines, minor medical treatments, and providing separation between patients while they wait or discuss personal information.
Maximizing Space
The healthcare environment is unpredictable and there will be times when more space will be required due to an influx of patients.
It might not always be enough for a hospital or medical space to have hundreds of rooms. A straightforward piece of equipment, such as a medical room divider, can divide an open area into multiple stations that can accommodate even more patients. It is not a long term solution but a temporary solution until more space becomes available.


Waiting Rooms
It is said that one of the most likely places to catch a cold is in a doctor's waiting room, but how can this be avoided?
It doesn't matter if you're in the doctor's waiting room or the hospital; there are people there with all kinds of illnesses. Even though it can be difficult to control that kind of environment, the assistance of dividers between seating wouldn't go a miss.
Acrylic medical dividers meet the requirements as they maintain the spaces openness and visibility while still providing some degree of protection.
Emergencies
As expected, emergencies happen daily within healthcare so the ability to protect a patient's wellbeing and privacy needs to happen quickly and efficiently. Portable dividers and screening can be kept on hand and stored in easy to access locations in the event an emergency arises.
The concertina design enables the divider to neatly fold into a slimline size so minimal space is used.
Protecting staff
A large number of the screening options are to protect the patients, but protection is needed for the staff who work long days surrounded by people.
The nurse and doctors who are constantly on the go are hard to shield, but those who are stationary and working at a reception can be safeguarded with easy clean, acrylic desktop dividers. Attach a simple, clear acrylic desktop divider with a cut out for ease of transferring papers and documentation.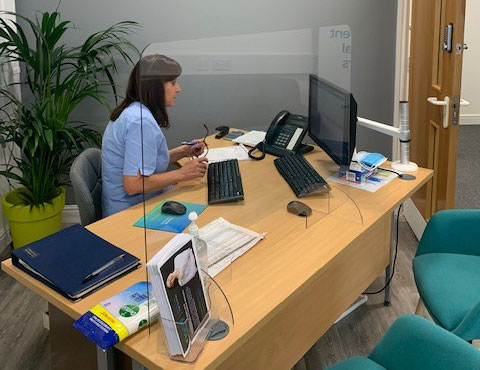 What types of screens are used in a Medical & Healthcare environment?
Not all screens and room dividers are suitable for the NHS, this is mainly due to the types of material but the design of the partition is also important.
In terms of design, a freestanding partition screen will not suffice on a ward or in an environment where screening may be required rapidly. The ideal screen will be portable, lightweight, and easy to move between rooms.
That's not to say freestanding medical screens don't have their place, but these will be placed as a permanent feature and become part of the room design.
Healthcare environments require the highest level of sanitization, meaning the finish of the freestanding or portable room divider is incredibly important. Woven and loop nylon fabrics aren't the best choice as it's not possible to wipe clean or apply any disinfectants.


Easy Clean Room Dividers are a favored choice for the NHS and served a purpose during COVID-19 by creating vaccine pods. Disinfecting is a possibility as the white gloss laminate can withstand the use of bleach and chlorine based cleaning products for a deep clean.
If a plain white finish isn't right for the environment, the portable anti-bacterial screens and safeguard partition screens offer vibrancy. In addition to welcoming bright colors into a clean, medical setting, the material has been treated to repel germs and bacteria. The fabric is resistant to blood and urine thanks to a sanitizing treatment. Warm soapy water and a gentle hand are required for cleaning since the material does some of the work for you.
Whilst the primary use for medical dividing screens is dividing space and adding privacy, for younger patients there is another requirement. The children ward differs to any other as there's extra colour and character, so it's only natural that the dividing solutions follow suit.
Even in a space that isn't always filled with joy, custom-printed portable room dividers can be educational and entertaining. Utilize a Portable Printed Partition with double sided print to complement a child-friendly setting.


The above options are fully opaque so regardless of the use, privacy will be given. Acrylic partitions, on the other hand, can add a different benefit to a medical space if privacy isn't a priority.
Freestanding and desktop acrylic medical dividers give the same level of protection and division but have full transparency. Clear acrylic is easy to clean and due to the understated design, can be added to a space without being noticed.
What are the benefits of the Medical Room Dividers?
Cost Effective
Every department looks after their own budget so making large purchases can be a difficult or time consuming task. Luckily, the portable room dividers and medical screens are a cost effective choice and are made for long term use.
The same screen that once created the COVID-19 booths can be repurposed and used in a different area in the coming months.
Portable & Transferable
The ability to use the portable room divider in any space, at any point is a huge selling point. In a healthcare space, where anything can happen and circumstances change quickly, you need a product that support these swift changes.
Portable, acrylic or desktop – no matter the style, there's the potential to move the Medial Screens throughout departments and locations.
Choice of materials
Dependent on the need and purpose, the choice of materials expand how the screens can be used. Laminate, anti-bacterial & acrylic screening solutions are the most popular and effective for a medical, bacteria conscious space.