Medical Partition Screens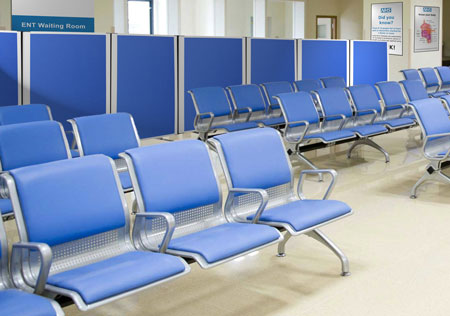 The Medical Screens provide privacy and protection in dynamic environments including hospitals and clinics. With the ever-changing nature of medical centres, the Medical Screens are designed to divide open spaces while providing a number of practical uses. Our Medical Screens are available with either an easy clean laminate or anti-bacterial finish to make them effective in somewhat vulnerable environments.
Every Medical Screen can be tailored to suit the environment they are required for, which allows you to make the most of the space you have available. From the height and width of the panels to the number that you require, we can manufacture bespoke Medical Screens to effectively utilise each setting. Each screen is manufactured using high quality materials which is why all of the Medical Screens include a five-year manufacturer's guarantee.




Why Buy a Medical Screen from Go Displays?
Each Medical Screen is created with a compressed core which ensures that the panel is sturdy and lightweight in equal measure. The panel is then covered with your chosen material. We offer a high pressure laminate which is available in either white gloss or grey. There is also the option of having the anti-bacterial material which is incredibly effective at eliminating bacteria and keeping environments safe and clean.
All of the Medical Screens are manufactured from our site in Peterborough, Cambridgeshire. This allows us to maintain a rigorous quality control procedure which ensures that every Medical Screen that we dispatch is fit for purpose. When the Medical Screens are received, setting up is designed to be straightforward as the panels open up into a concertina design, leaving just the stabilising feet to attach.
If you have any queries regarding which of the Medical Screens would be most suitable for your environment, then please feel free to get in touch with our team of advisors by calling 01733 232000 or by sending an e-mail to sales@go-displays.co.uk.