2m x 3m Exhibition Stands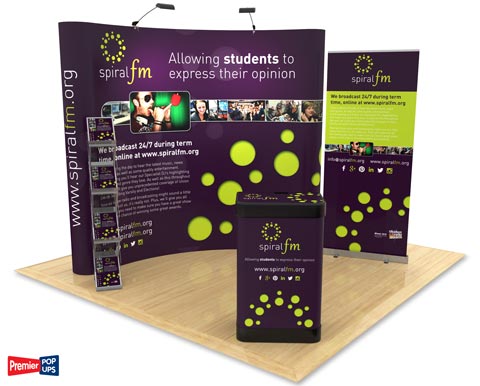 A 2m x 3m Exhibition Stand Design is tailored to deliver an impressive display, even when you are pressed for space. The bundles featured below incorporate a variety of display tools which are proven to be effective when promoting branding, products and services. We design and manufacture a variety of bundles, guaranteeing that each is bespoke to the company they serve.
The core feature of every 2m x 3m Exhibition Stand Design is the display stand which serves as the backdrop. The two key options here are the traditional Pop-Up Stand or the modern, flexible Streamline Exhibition Stand. Then, there are further levels of customisation, as we can then include banner stands, promotional counters or leaflet dispensers, depending on what is required to successfully promote a brand.
Every 2m x 3m Exhibition Stand Design below is designed and manufactured here at Go Displays. When it comes to creating each, we prioritise building an excellent product which is also built to last. This means using high-quality products with the frame as well as with the graphic panels to ensure an outstanding finish. For more information on our products or if you have a unique idea mind, please get in touch by calling 01733 232000 or send an e-mail to sales@go-displays.co.uk!