How Schools Use Display Boards
Display boards are a useful piece of equipment and can be used in a multitude of settings, including an educational one. Lightweight, easy to use and versatility display panels are all that's needed to create a fantastic backdrop for schoolwork and achievements.
About Display Boards
Display boards are a functional display system, which can be utilised throughout any school, college or university. With a wide selection of display options, there's a design that will suit any education setting regardless of the use.
Folding and modular display board are the most popular on the market and benefit a school or classroom in various ways. Both designs are completed with a loop nylon fabric, taking away the use of pins and implementing the use of hook self-adhesive tape.
Requirements can change quickly in the evolving environment of a school, so portability is key. Freestanding display panels can effortlessly be moved from space to space without issue and quickly changed to meet the demand of the new location.
Type of Display Panels
Folding Display Boards
The Folding Display Boards range from tabletop to freestanding and all feature the easy folding function. Assembly is quicker than ever, all that's required for full assembly is the unfolding of the boards and placing in the suitable shape and position.
Pole & Panel Modular Display Boards
Panel & Pole Display Boards offer more versatility than the folding display board, as the configurations are endless.
A modular design means you're able to choose a starting display board kit, but you'll always have the option to add display panels and enhance what you currently have. By connecting further display panels and poles, the width and shape of the display can be transformed.
Furthermore, the display panels can be displayed landscape or portrait to accommodate different posters and image sizes.


Portable Display Panels
Whilst the folding and modular display boards are portable in the sense they are easy to carry and move, the portable display panels have fitted wheels. No lifting is required, the display panels smoothly fold together and the entire unit can be wheeled to it's next location.
Similarly to the alternate display board styles, the Portable Display Panels feature the loop nylon fabric for easy attachment of posters, paper and printed medias.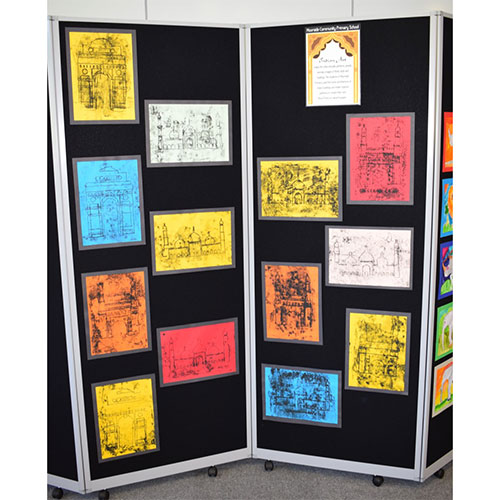 How can Display Boards be used in a classroom or educational environment?
Educational Tool
A display board can be used as a teaching tool, which is one of its most significant applications. By introducing a new element to the classroom, it's possible to support various learning preferences and draw more attention from the class.
School display boards can also be utilised for discussion and class involvement in addition to serving as a display tool. Allow the children to participate by making words, solving puzzles, or solving math problems while moving the printed posters and/or cards around the loop nylon fabric.
The loop nylon fabric is compatible with self-adhesive hook tape which can easily be pulled away from the board and reattached.
Creating display
The most obvious choice for a display board is to create a display. The type of display will depend on the chosen use, but here are a few suggestions on how to maximise your display options.
Create a lesson based display.

Showcase children's artwork or painting.

Use during parents evening.

Display open day information.

Displaying Course/school work.

Welcome information at reception.
Coursework and higher education homework for art or creative lessons may require a more robust display solution. Modular display options are the ideal choice when it comes to hanging and displaying bigger pieces of work or framed artwork/images.
Normally, any attachments will fit directly onto the loop nylon fabric surface, however this isn't the case for heavier, framed work. To withstand the weight, an additional fixing is used to hook over the side of the frame and provide a strong anchor point.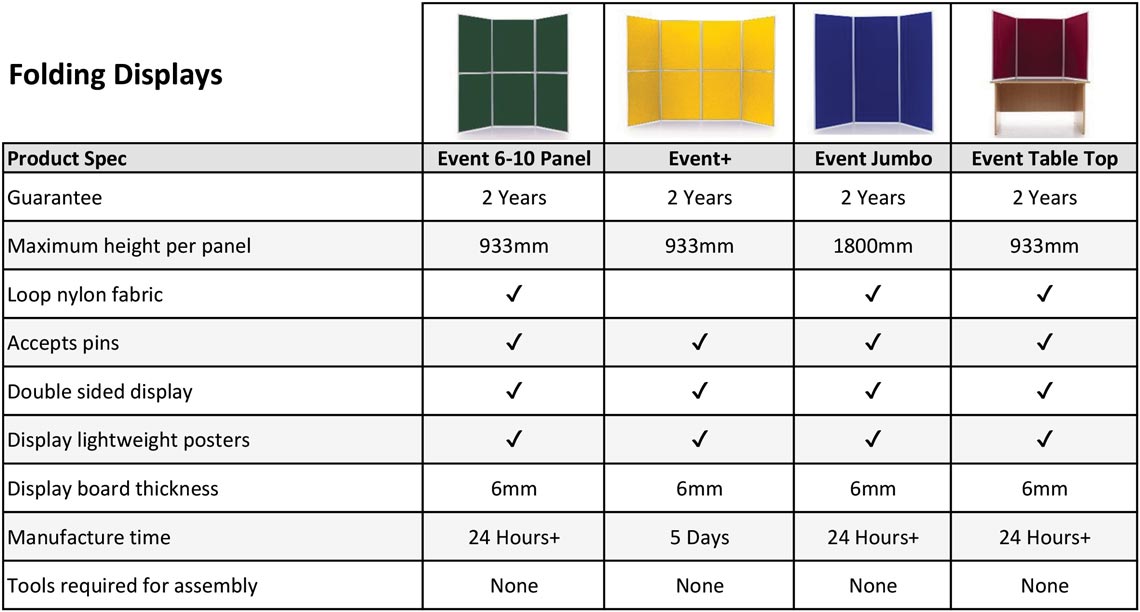 Why do schools find Display Boards useful?
Versatile Designs
Display Boards are versatile, no matter the design.
The ability to be able to move from classroom to office, office to hallway and hallway to reception is important. The structure of the available display boards ensures all panels can be moved with ease and set up again, requiring only one person.
Adjustable
Being able to adjust a display board is how you make the most out of modular panel and pole panel designs. The ability to add and remove panels gives you full control on how wide the displays should be and the configuration.
Connect as many panels as necessary to suit the exhibit or display you'd like to create. Schools can take advantage of the landscape and portrait layouts and create bespoke display arrangements each time.
You'll find that certain display panels may be suited to different schools and age groups based on the use and the types of material being displayed.

Decorative and Informative
In the event that the display boards are being used to showcase schoolwork, this provides an educational twist on adding colour and décor to a room. The loop nylon fabric display panels efficiently display any print or poster, so the display can be created to the specified class and/or age group.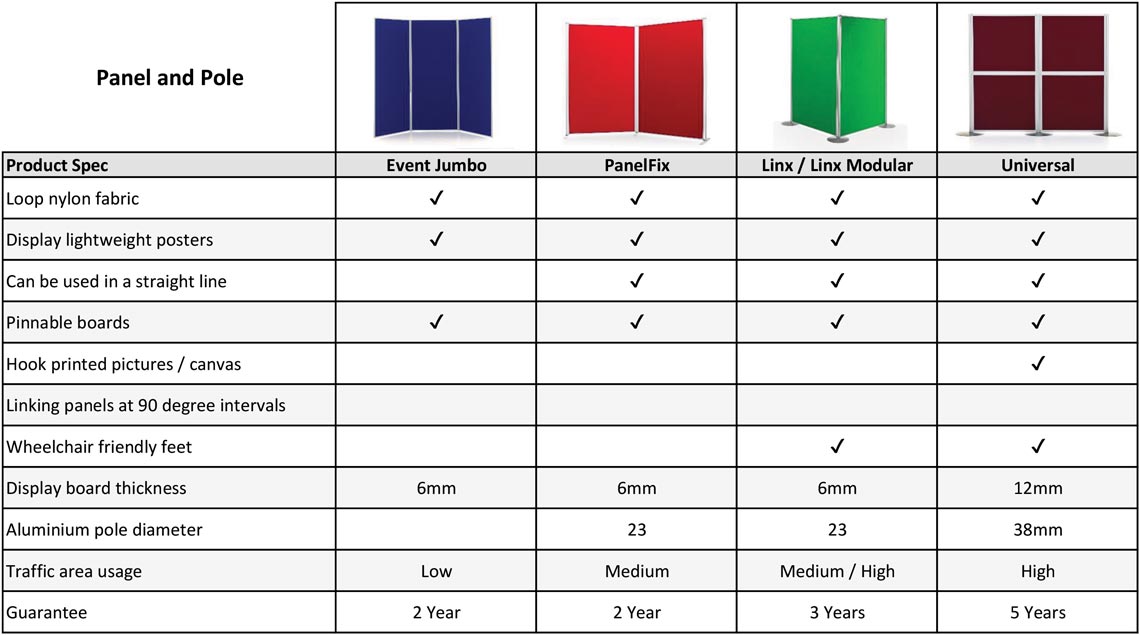 Additional Information
Find out which paper & poster sizes fit with the Folding & Modular Display Boards here
Learn more about poster sizes here
Customer Photos