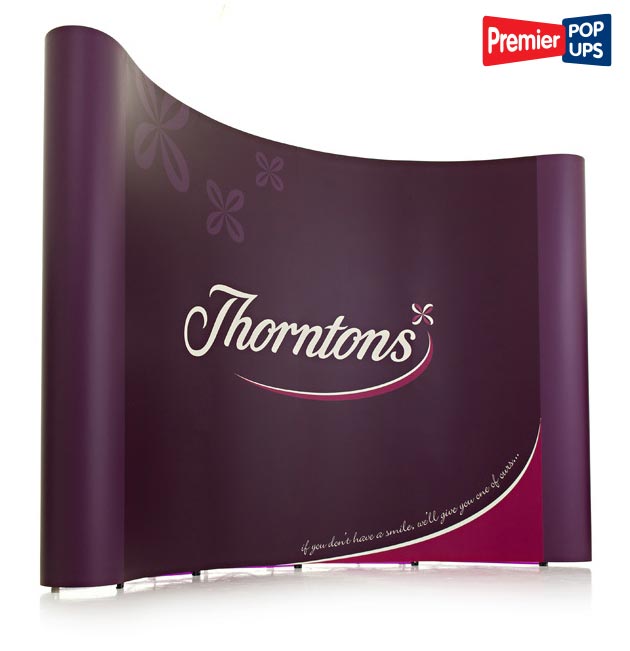 Curved pop up stands are the perfect solution for use at exhibitions to transform your booth into and inviting stand. Curved exhibition stands are a particular favourite for exhibitors as they're quick and easy to set up and transport to your show.
A major benefit of our Curved pop up stands is the fact that even if the panels become updated as your branding evolves, the framing is manufactured to last through multiple exhibitions. Therefore, when it is time for an update, you need only use our replacement panel service rather than having to purchase a complete new exhibition stand. We only use high-quality materials when creating every pop up display stand to ensure they excel a multiple events and exhibitions.
All Curved pop up stands manufactured by Go Displays are part of the Premier Pop Up Stand family and come complete with curved pop up frame, printed/laminated pop up graphics & wheeled pop up stand storage case. These can be further customised with roller banners, leaflet dispensers and more - have a look at our exhibition stand bundles for more.



Curved Pop Up Stands from Go Displays
Go Displays have been manufacturing Curved pop up stands for 40 years, and that's why we're so competitively priced. We control the entire design and manufacturing process at our site in Peterborough, cutting out the middle man, meaning we can pass the savings directly onto you. That's what gives us that competitive edge over other suppliers within the industry.
Premier pop up stands are very easy to use, low cost and a flexible display stands. Most of our customers use curved pop up exhibition stands to promote their business or new product but the possibilities with a display stand are endless. Pop up displays are great for us indoors as well as outdoors and are the best choice for small exhibitions. Our exhibition stands are designed to be extremely versatile and cost-effective so they can be used time and time again. Replacement pop up graphics for your exhibition stand are also available so you can keep your stand up to date with new offers or product launches without the need to purchase a whole new display. With all our pop up stands, you have the option to transform your display into a double sided, by having printed panels on the back of the frame.
Our display stands are also completely portable and easy to store, with the entire stand fitting neatly into the wheeled storage case, thereby protecting your graphics so they're ready for your next show. Most pop up stands can be set up in only a matter of minutes by one person.
The deluxe upgrade available with each pop up display stand comes complete with pop up spotlights, a wheeled pop up storage case and a printed graphic wrap which fits around the case - transforming it into a counter for your stand.
Want help designing your Curved Pop up Display Stand?
Here at Go Displays we offer a complete in-house graphic design service that's available for all our display customers. Our graphic designers will work closely with you to design your perfect stand. We know that designing the artwork for your exhibition stand can be the most challenging part of the order process, so we want to make this as simple as possible by taking your ideas and presenting you with the perfect pop up display stand.
We also offer a template graphic design service for anyone who is not sure what design they would like. You can choose from our ready-made display stand templates that have been specifically designed for our various products. We'll add in your company logo, text of your choice and any images you require, and create the artwork you require. This is a great exhibition stand service for anyone working on a strict budget.
Go Displays' graphic design service also includes an extensive image library, containing high resolution images for all sectors. So, if you're worried about the quality of your images or simply cannot source what you're looking for, we can help! By opting for our design service, you automatically receive access to these images for your design.