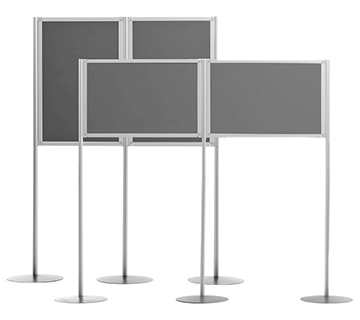 The A0 & A1 Panel and Pole Display Boards provide the most effective way of exhibiting your content. Available in two sizes, the A0 and A1 display boards are designed to give prominence to your content and give it the platform to shine. All of the A0 and A1 Panel & Pole Display Boards feature Velcro friendly loop nylon fabric which means that content can be applied quickly and easily without ultimately having to damage the content itself through the use of pins as is the case with lower grade fabrics. All of the A0 and A1 Panel and Pole Display Boards feature round sturdy feet at the bottom to provide additional stability, especially when they are being used in areas where there is a moderate amount of footfall. We design the panels themselves to ensure they are both lightweight but also sturdy, which means they can be moved easily when required but are also strong and secure once set up.
Regardless of the space you have or the design that you need, we are able to tailor the A0 and A1 Panel & Pole Display Boards to adapt to your content or environment. We manufacture each order from our site in Peterborough, Cambridgeshire. If you would like to know how we can design the A0 and A1 Display Boards to suit you, then please give our team of advisors a call on 01733 232000.

Why Buy A0 & A1 Display Stands from Go Displays?
We provide three different A0 and A1 display boards and each has its own array of unique features. For example, the PanelFix and Linx display boards incorporate interchangeable panels, a selection of different sizes and the choice of your fabric colour. Meanwhile, the Universal Panel & Pole Display Boards are designed as a heavier duty solution, which means they are able to excel in environments where there is a high amount of footfall.
All of the A0 & A1 Panel and Pole Display Boards are manufactured using a lightweight core which is then compressed to provide it with its strength. They are then covered with the loop nylon fabric in the colour of your choice, before being finished with the aluminium framing, providing a clean and professional finish. Throughout the manufacturing process, we perform extensive checks to ensure that all of the A0 and A1 Panel & Pole Display Boards that we produce meet the high standards that we expect.