Streamline Flexible & Modular Exhibition Stands
As an Event Organiser the Streamline allows you to provide each exhibitor with a different display without needing to source multiple stands. The Streamline Display is completely flexible, meaning it can create a variety of different shapes and designs, so each of your exhibitors can choose a layout they like and works for them. After coming across many similar systems on the market that had limited flexibility, Go Displays designed and manufactured a stand that could be 100% flexible while still maintaining the high quality and strength you'd expect in an exhibition display. The versatility of the Streamline also means 1 size can be purchased and then used to fit multiple stand sizes, as its adaptable and easy to add or take away panels as and when needed. Height is also an option with the Streamline, as you can choose from 2m, 2.2m, 2.3m, 2.4m and 2.5m, again providing flexibility and variety across the event.



In terms of installation the Streamline is quick and simple to assemble, requiring only 1 person (2 depending on height/size of display) to set it up. The system itself fits neatly into the wheeled carry case provided with each system, meaning its easy to transport and store away before and after the event. The panels attach to the pole and base system using both hooks and magnetic strips to ensure a secure, sturdy display. This also allows the clients to re-use the system on multiple occasions, as well as expanding the display by simply adding additional panels, poles and bases.
The 300mm round bases not only provide stability but also ensure that the display doesn't take up too much of the stand space. We know that as an exhibition organiser you not only need to provide as many exhibition spaces as possible but also provide a large enough space for the exhibitor to advertise their brand. This can then make finding a suitable display to fit this space increasingly difficult. We've designed the Streamline to provide a slimline but effective display solution without compromising on the flexibility and longevity of the stand. The bases have also been designed to be trip and wheelchair friendly, making the display safe in both low and high traffic areas.



The slim design of the Streamline also makes it a popular choice with shell schemes, as they're great for using in front of the framework. While Shell Schemes have their place within the exhibition industry, more often than not the different manufacturers use different size panels which means that new graphics are required for each show. So while purchasing the Shell Scheme graphics seems more cost effective initially, in the long term it can work out quite costly whereas the Streamline provides a re-usable display no matter your stand size.

The Streamline has a lot of unique features including the flexibility, which make it perfect for exhibition use. The stand can be manufactured as either a single or double sided display, providing your exhibitors with even more display area to showcase their brand. A TV monitor can be added using a monitor arm making the stand more interactive and immersive. As the manufacturers we're able to create the stand to bespoke sizes, meaning you don't have to compromise on the impact of your display because of limited space. As well as manufacturing and designing the system inhouse, we also print all the panels, using 500 micron stoplight media and laminate to provide you with high quality, scratch resistant graphics everytime.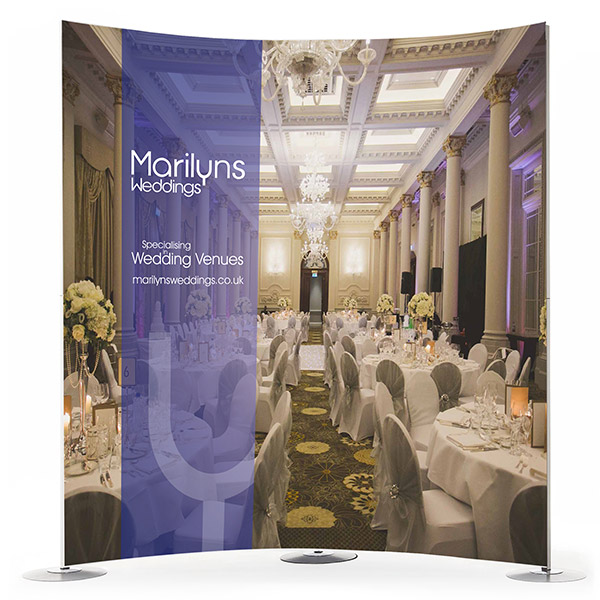 Completely flexible display

Can create various shapes and designs

Versatile and adaptable

Different height options available

Re-use and expand your display

Slimline with 300mm round bases

Easy to transport, fits into wheeled cases provided

Trip & Wheelchair friendly base

Quick setup by 1 person

Monitors can be added for interaction

Manufactured by Go Displays, can only be purchased direct

10 year guarantee included

Graphics printed onto 500 micron media

Panels are laminated for a protective surface

Double Sided display available

Can be manufactured to bespoke sizes if requested