Streamline Flexible Exhibition Stands
What is a Streamline Exhibition Stand?
Streamline Exhibition Stands are a completely flexible and versatile display solution. Designed and manufactured completely by us, we've created a stand that gives you a unique, high quality exhibit that is also portable and lightweight.
The Streamline Stands are available in 5 heights; 2m, 2.2m, 2.3m, 2.4m and 2.5m. Each panel is 1m wide, and with the distinctive panel and pole design you can add as many panels are you need, whether that's 2 or 20.
The panel and pole style of the Streamline display also allows for the stand to create multiple different shapes of exhibition stands, whether that is the standard L or U shape often seen at events or a more quirky structure to really showcase your business.
The standard Streamline kits (regardless of size) include the printed graphic panels, poles and bases and wheeled storage cases. An option of an upgrade kit for the case is available which includes a graphic wrap and acrylic top to allow you to use the case as a counter when the Streamline display is in use. The upgrade kit also includes 2 LED lights for the Streamline.
What are Streamline Stands used for?
The Streamline Display Stands are perfect for any business looking for a versatile, re-usable, cost-effective display solution for use in any indoor setting.
Tradeshows

Exhibitions

Showrooms/Reception Areas

Shopping Centres

Conferences

Award Shows

Recruitment Events

Networking Events
Why choose a Streamline Exhibition Stand?
If you're looking for a completely flexible, re-usable display stand that's portable, lightweight that can be used for multiple events and exhibitions, regardless of the stand space you have available, then the Streamline Exhibition Stand is the best choice.
Lightweight

Portable, easy to transport

Simple and quick to assemble

Different heights available

Create any width stand by easily adding more panels

Easy to re-brand and change graphics

75% recyclable, 100% re-usable

Cost effective

High quality finish

Unique, flexible design
How are Streamline Stands assembled?
The Streamline Exhibition Stands are easy to assemble with only a few steps necessary. The installation can be complete by 1 person, although you may find it easier with 2 people. All the components required to assemble the Streamline Stand are provided with each kit, no additional tools are required.


Carefully removed all the contents from the Streamline case. We find its easier to lay it all out on the floor so all the parts are easily accessible.

Position the chrome insert cap on top of the base. Screw the bottom section of the pole (with the thread) into the base.

Slide the top section of the pole into the bottom section now secured in the base. Repeat for all poles and bases.

Make sure the magnetic strips on the poles are facing forward/towards where your graphics need to face.

Starting left to right (panel 1 first) attach the graphics to the poles by hooking the grey hooks on the reverse of the panel over the top section of the pole.

Once the hook is in place guide the panel down, connecting the magnetic strip to the magnets on the poles.

Repeat this process for all the panels, where 2 panels connect they will share a pole and both hooks sit in the top front section of the pole.

The panels should all sit in line at the top of the Streamline to ensure the graphics line up.


The video below provides a step-by-step guide of how to assemble a Streamline Stand. A PDF copy of the Streamline Stand assembly instructions can be found here


What are the different types of Streamline Stands?
The Streamline Exhibition Stands as standard are supplied with single sided graphics, which is perfect for customers looking to us the display within an existing shell scheme at an event, or as a backdrop in a reception area. Available in 5 height options; 2m, 2.2m, 2.3m, 2.4m and 2.5m. Each panel is 1m wide, and you can link as many panels together as required. The completely flexible design created with the graphic panels, poles and bases and with the ability to add and remove panels means that you can adapt the Streamline to fit any of your spaces by changing the shape and size easily.
Create various different shapes and configurations

5 heights available; 2m, 2.2m, 2.3m, 2.4m and 2.5m

Each panel is 1m wide, connect as many as needed

Quick and easy to assemble

Completely flexible design

Can be used with monitor brackets, lights etc.

Use at different events in different stand sizes easily

Replacement graphics available

Compacts down into wheeled storage case
Double Sided Streamline Stands
The double sided print option we've added to the Streamline Stands not only expands the range but provides you with double the graphic space to show off your company and products. The reverse panels attach by using the same poles and bases as the front panels, so you don't need to double up on the hardware. The double sided is also available in the same height and width options as the single sided, and panels can be added and removed just as easily to still supply you with a versatile stand.
Create various different shapes and configurations

5 heights available; 2m, 2.2m, 2.3m, 2.4m and 2.5m

Each panel is 1m wide, can connect as many together as needed

Quick and easy to assemble

Double Sided print offers maximum display coverage

Can be used with monitor brackets, lights etc.

Use at different events in different stand sizes easily

Replacement graphics available

Compacts down into wheeled storage cases
The Streamline display system, whether with single or double sided graphics, can use the create various different shapes and configurations for many different uses and environments. Whether you're looking to a simple straight backdrop, an inviting curved display or an L Shape stand for maximum coverage, the Streamline stand does it all. What's more is that with the flexible design of panel and pole, with no limit to the number of panels that can be connected together, you can create unique and quirky layouts including a full circle, waved displays, and really bend and curve the stand to your desired formation.
Completely flexible design

5 heights available; 2m, 2.2m, 2.3m, 2.4m and 2.5m

Each panel is 1m wide, can connect as many together as needed

No limit to width of display

Create any shape or configuration you desire

Use at different events in different stand sizes easily

Same artwork can create multiple different looks
| | |
| --- | --- |
| Monitor Brackets can be added to your Streamline Stand which allow you to integrate a TV screen into your display. This can be added to any panel of your Streamline at the designated height, and can be any size you'd like as long as its under 10kg. Adding a monitor to your display easily created a multi-media stand to really showcase your brand. | |
| Lights can be added to your Streamline display by attaching directly onto the poles behind the graphic panel. These simply clip onto the pole and tighten into place. We provide the lights in sets of 2, with a set being included in each upgrade kit for the wheeled cases. The lights are LED 4w spotlight with an adjustable clamp and 3m cable and standard UK 3 pin plug. Replacement lamps are also available to purchase if required. | |
| The Upgrade Kits for the Streamline Stands are available in 3 options, all of which include a graphic wrap for the wheeled storage case. The different in the 3 upgrades is whether or not the lights are included and the acrylic top colour, which is used to provide a flat surface on the case to create a counter. The acrylic top is available as either plain black or custom printed with your design/logo, providing further branding space for your display. The graphic wrap is printed on the same media as the rest of the Streamline panels and fixes into place around the case using magnets. | |
How are Streamline Stands made?
As the Streamline Stand is unique to Go Displays, we've always had control over the complete stand; from the initial product design and testing, down to the components and materials used. We manufacture the complete display in house to guarantee that every Streamline produced follows our guidelines and meets our standards.
The poles (framework) of the Streamline are made from aluminium, making them sturdy but lightweight. We attach the magnetic strips required for attaching the graphic panels. The thread required for inserting the pole into the steel base is pre-fitted so the stand is ready to use.
The graphic panels are also printed in-house by us too on 350 micron stoplight media. We use 1200 dpi printers with water based inks, providing a flawless print finish as well as being more environmentally friendly. To protect the panels we then apply a 150-micron crystal matte laminate.
The panels are trimmed, magnetic tape and hooks applied by us to ensure consistency across all the graphics.
Before each Streamline Stand is packed ready to be dispatched we assemble for a final quality check. Regardless of the size of the Streamline display ordered we assemble the entire stand, including any upgrades and accessories, so that we can make sure you receive a first-rate product that's ready to used upon receipt.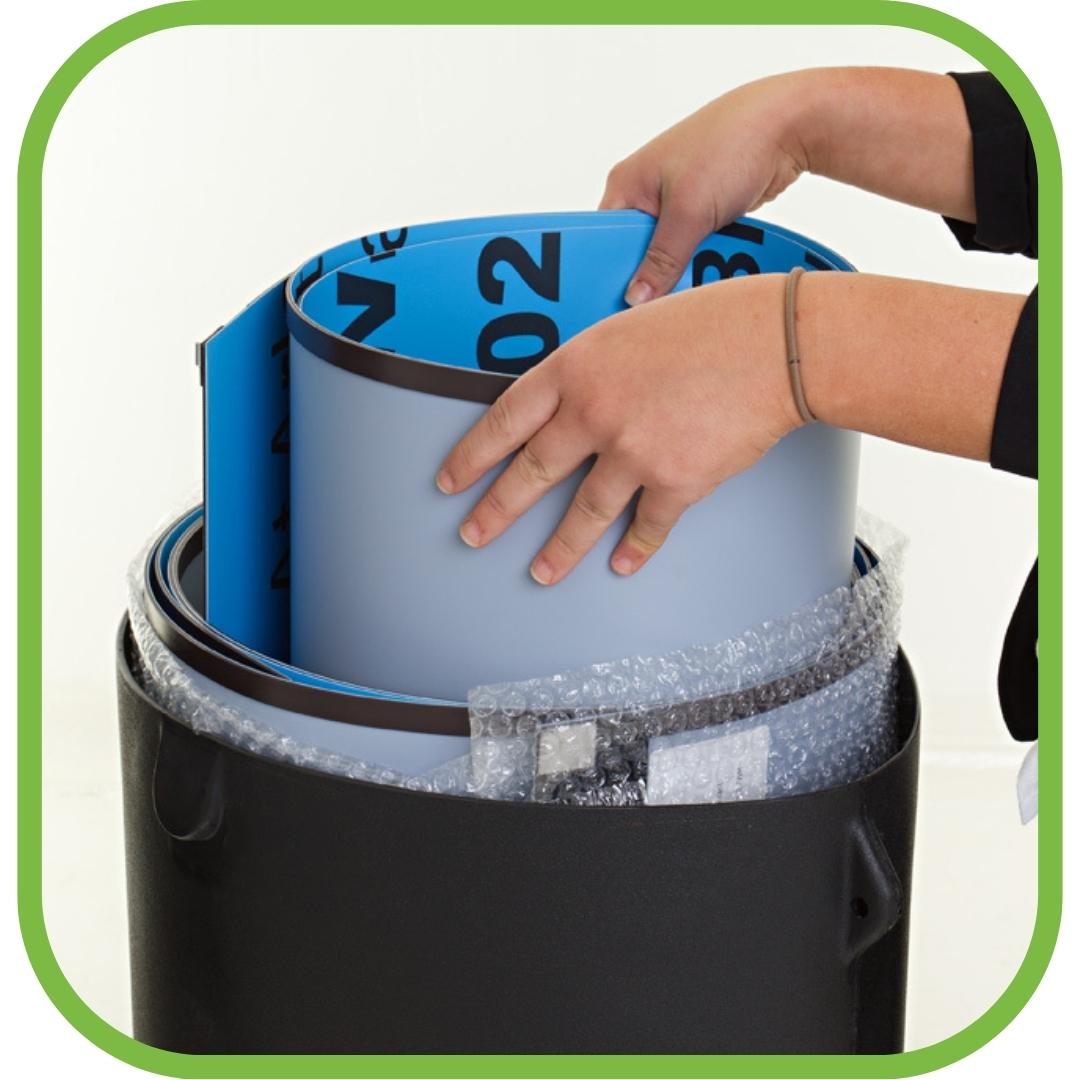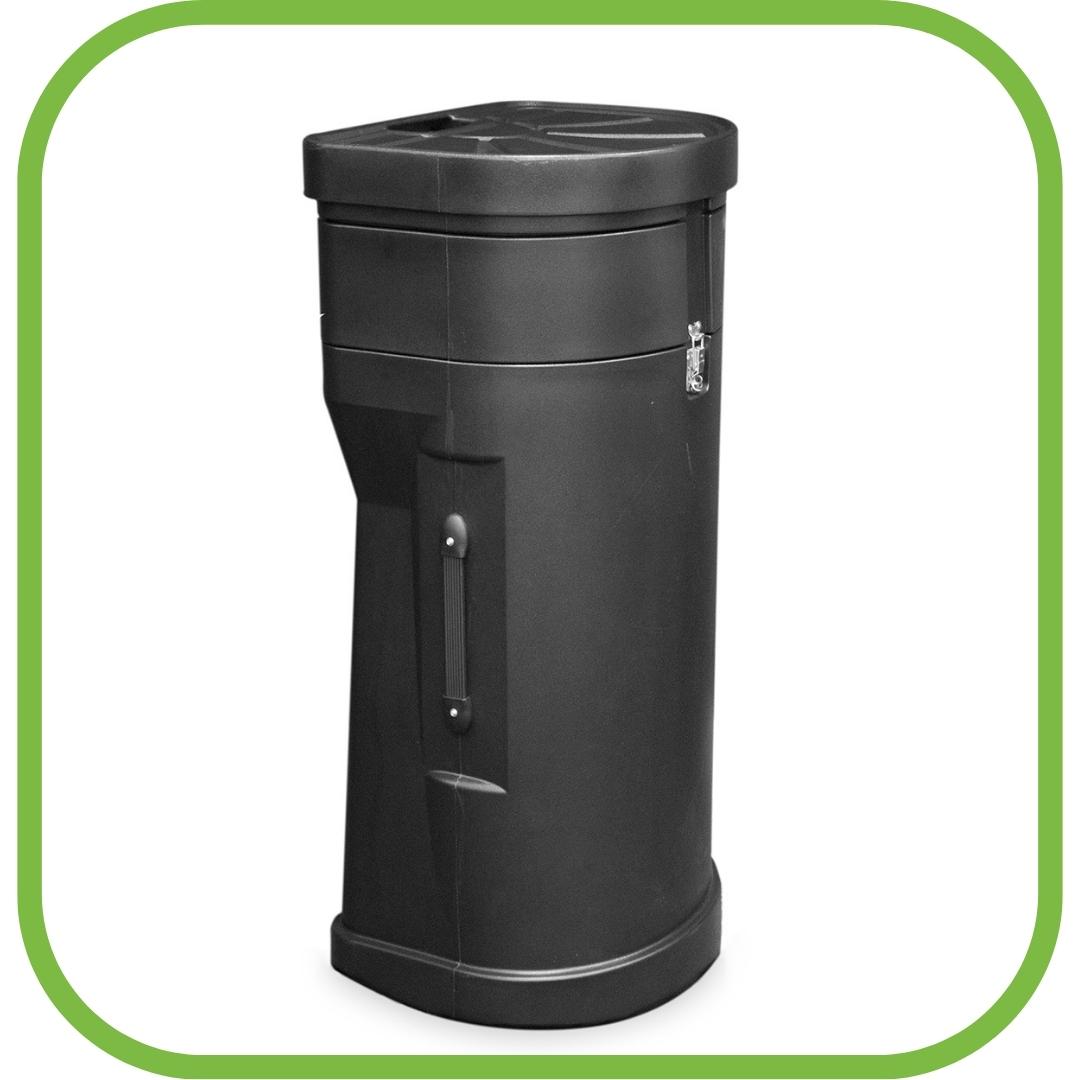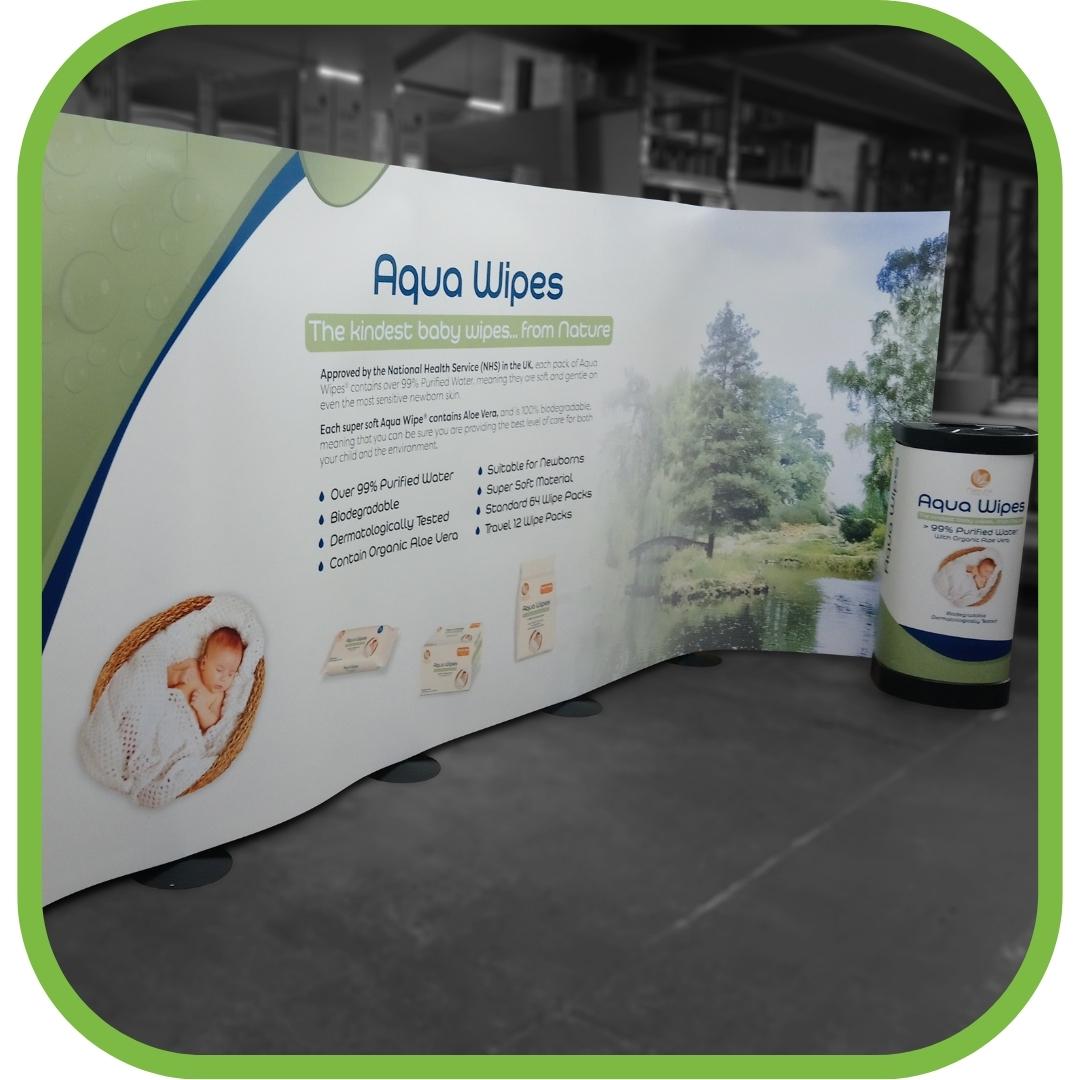 How to design artwork for a Streamline Exhibition Stand?
Artwork for a Streamline Stand should be supplied as a high resolution PDF to the following specification
CMYK colour profile

Vector format/ 300dpi or higher

All text outlined

Images linked/embedded

Layers flattened

No crop or bleed marks required

Supplied at full size or 25% of the total size
We've created a helpful video to show how to design the artwork for your Streamline Stand. If you would like assistance with designing your artwork we can provide details for a designer we work closely with who can help with your design.


Why choose Go Displays for your Streamline Exhibition Stand?
Go Displays have been supplying the display industry for over 20 years, meaning that not only do we have extensive knowledge of the industry itself but also that we've been able to fine tweak the designing and producing of our display products. We designed the Streamline Exhibition Stand to fill a major gap in the market of a stand that provides the same high-quality you expect of a Pop Up Stand but with flexibility and versatility. By creating a stand that uses heavy duty graphics as well as poles and bases we've been able to produce a completely adaptable display. By manufacturing our own design of product we've been able to adjust and tweak the process as well as make certain that each and every Streamline Stand is produced with the five-star finish and consistency that we expect. We quality check every Streamline Stand before it leaves our premises by assembling the full display. Being a UK manufacturer not only allows us to be in complete control of the products we produce, but we're also able to pass on the savings we make by cutting out the 'middle man' to our customers, so you can be assured that we offer our Streamline Exhibition Stands at the best price possible without reducing the quality. At Go Displays we're proud to be a UK manufacturer, using UK suppliers for our materials where possible and reducing our carbon footprint.
Over 20 years in the display industry

UK manufacturer for over 50 years

Manufacture in-house, passing on savings to our customers

Quality control each product before it leaves us

Use UK suppliers where possible, reducing our carbon footprint

Quick response time, with dedicated sales team and online chat

Check artwork with customer before printing to ensure high-quality final result

Quick turn-around and delivery times available

Simple and easy to understand approach, no hidden details or fees