Roller Banners & Banner Stands
What is a Roller Banner?
Roller Banners, also known as Banner Stands, Pull Up Banners, Pop Up Banners etc. are a very popular display option for various industries and businesses. This is partly due to how quick and easy they are to assemble and use, perfect for when you need to get your set up ready and running in a short amount of time. They are particularly popular with on-the-road sales roles as well as being used at exhibitions, conferences and showrooms. The other reason why these Pull Up Banners tend to be people's go to product is the price. Roller Banners are a really budget-friendly option for displaying your brand without compromising on the quality.
At Go Displays our range of banners includes your standard roller banners supplied with a cassette, a reliable tried and tested display solution, as well as our very own designed Switch banner with replaceable graphics, our Eco banner range as well as textile fabric banners. With a wide range of sizes, materials and finishes to choose from there really is an option to fit every business and budget.
Everything you need to use a roller banner is included with your purchase from us, no additional tools required, making them great for use on the go. Most of our banner options are supplied with either a fabric storage bag or a suitable travel box with a handle, making it easy for you to carry and move the banner with you.
Within our range we've included a few options that give you the chance the change your graphics, making the banner stands more cost effective in the long run for your business. Other options available are 100% recyclable, as well as re-usable so that you can do your part to help the planet whilst still showcasing your services and products effectively.
What are Roller Banners used for?
Roller Banners are a great way to advertise your brand in a quick, compact way. With the roller banners assemble being so fast you can have your display up and running in no time.
Shopping Centers

Conferences

Tradeshows

Festivals

Recruitment Evvents

Reception Area/Showroom

On-the-road Sales

Networking Events
Why choose a Roller Banner ?
With a wide range of banners to choose from, with different heights, widths, finishes, styles, shapes, materials etc. there are a lot of different aspects to consider when choosing the right banner stand for you. The one thing that all these different stypes of roller banner have in common is the ease of assembly and use, the speed in which they can be set up and the quality of the display you receive.
Lightweight

Very easy to assemble

No tools required

Can be assembled by 1 person

Portable, easy to transport

Simple and quick to assemble

Different sizes available

Supplied with carry bags*

Low cost display option

High quality finish

How are Roller Banners assembled?
The Roller Banners are such a popular choice due to how swiftly they can be assembled and used, requiring only 1 person and taking under 5 minutes. All the components required for installation are supplied for each Banner Stand with no additional tools required. With such a wide range of banners in our collection the assembly instructions for each do vary. Below are the assembly guide for the Sterling banner stands.


Twist out the swivel stabilising foot from the bottom of the base.

Open the 3 section telescopic pole from the base and connect together. Insert the pole into the base.

Holding the top rail of the graphics in the centre, gently pull the graphics upwards from the base to fully extend the banner.

Secure the graphic panel into place by inserting the pole into the pre-fitted clip on the banners top rail.

To dismantle unhook the top fitting from the pole and carefully feed the graphics back into the base. DO NOT let go of the graphic until fully retracted inside the base.

Dismantle the pole and stored back within the base.




The videos below provides a step-by-step guide of how to assemble the Switch Banner and the Natural Banner.
PDF copies of all our Roller Banners assembly instructions can be found below:
Sterling Banners
Switch Banner
Oxford Banner
Natural Banner
Eco Banner


What are the different types of Roller Banners?
At Go Displays we offer 2 ranges of cassette banners; Sterling and Oxford. Both options use an anodised aluminium base which the graphics are rolled into, making it quick to pull up the banner and secure in place using a pole at the reverse. The graphic panel for both are supplied on a 300 micron stoplight media that's laminated to keep the graphics protected. Both the Sterling and Oxford Pull Up Banners are supplied with a fabric carry bag for easy transport and storage.
The Sterling Banners are available in 2 heights; 2m and 1m high, and 2 widths; 850mm and 1m wide. The base and pole are manufactured from aluminium in-house by us, with swivel out support feet.
The Oxford Banner is provided at 2110mm high x 850mm wide. Also supplied with an aluminium base, the Oxford Banner Stand has an added feature of chrome finished end covers and adjustable feet.

Lightweight and compact

Various sizes available

Quick and easy to assemble

Laminated high-quality graphics

Fits into storage bag supplie
If you're looking for a printed display where the graphics can be changed as needed. The Switch Banner allows you to swap out the graphics by simply unhooking the graphic panel and attaching the new one. Banner Stands with changeable graphics are an eco-friendly alternative to regular pull up banners, as you can re-use the same hardware and switch out the graphics for different products, brands, events etc. The Switch Banner is available with 2 different materials for the printed graphics; 180 micron polypropylene or 600 micron block polyester fabric.
Easy to changegraphics

1990mm H x 850mm W

2 graphic panel materials available

Quick and easy to assemble

Re-usable hardware, eco-friendly
Our range of Eco-Friendly banner stands provide you with a recyclable display banner option. Within the range are 3 ranges; the Natural Banner, the Natural Folding Banner and the Eco Banner.
Natural Banners are supplied as either front, front and base or front, back and base printed. Manufactured from 4.5mm cardboard, unlaminated to provide a 100% recyclable option.
Natural Folding Banners are also manufactured from 4.5mm cardboard, and printed 1 side with a fold in the center. Pre-fitted support at the reverse allows for quick assembly in under 1 minute. The Natural Folding Banners are sold in packs of 2.
The Eco Banners are available in 3 sizes; 2000mm H x 800mm W (standard), 2000mm H x 1200mm W (stage banner) and 800mm H x 600mm W (desktop banner). Manufactured from 10mm Xanita fibreboard, laminated 1 side for protection.
3 ranges with different sizes available

Fold down for easy storage and transport

Manufactured from eco-friendly materials

Recyclable as well as re-usable

Double sided options available

Cost effective and budget friendly

Supplied in storage box
Fabric banners are a great alternative when looking for a roller banner. The textile fabric provides a high quality print finish, available both single and double sided. With a few different styles and shapes to choose from, there is a wide range of sizes available, some of which providing a wider banner backdrop display. The stretch polyester fabric is complete with a zip at the base, which makes assembly super simple. The tubular frame simply slots together and the frame slips over the frame and zips shut. The fabric banners are so incredibly lightweight, making them easy to transport from show to show.
2-3 different styles available

Various height and width options

Single or double sided print

Printed on stretch polyester fabric

Replacement graphic panels available

Zip up graphics make for easy assembly

Tubular frame easy to put together

Lightweight, easy to transport
How are Roller Banners made?
Our Sterling Banners are made using anodised aluminium for the base and pole, with a 300 micron stoplight media for the print.
The Switch Banners use an aluminium pole, with a steel base, magnets and your choice of graphics, all crafted and printed by us.
The Natural and Eco Banner range are constructed from either 4.5mm cardboard or 10mm Xanita fibreboard, both of which are reliably sourced and sustainable.
As well as manufacturing the banner hardware, we also print all the graphics in-house too. We use 1200 dpi printers with water based inks, which are not only better for the environment but provide a higher quality print finish compared to solvent based inks. The media we use various across the ranges including 180 and 300-micron stoplight media which is then laminated with a 150-micron crystal matte laminate, that provides another layer of protection to the graphics to make them scratch and tear resistant. The Eco options are not laminated as we print directly onto the board to create a long-lasting environmentally friendly finish.
All our other banner stands are purchased from reputable manufacturers, who we have worked with for many years to ensure we only provide the best products to our customers.
Before each banner ordered is packed ready to be dispatched we assemble for a final quality check regardless of the type or size of the stand, so that we can make certain that every banner is of the highest calibre.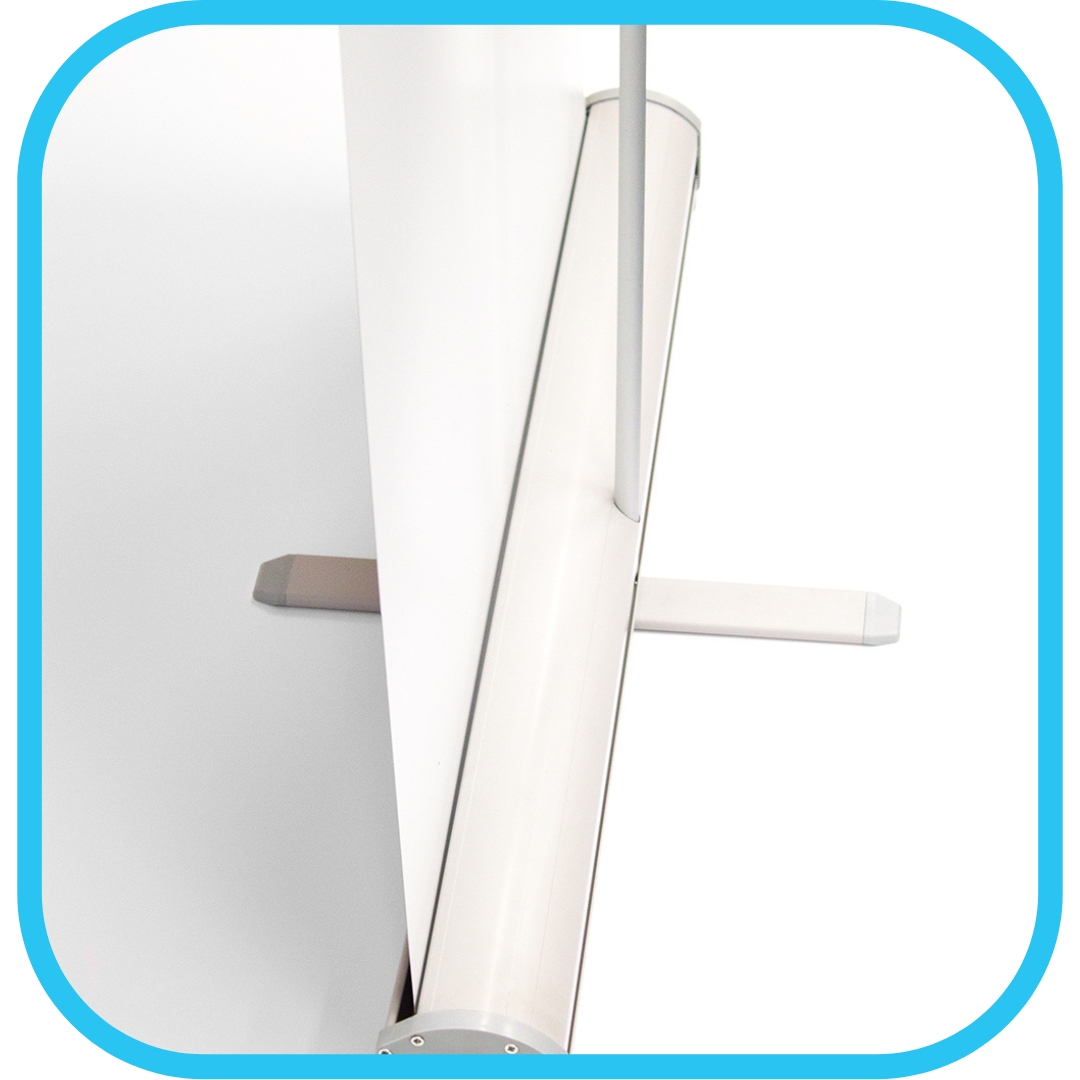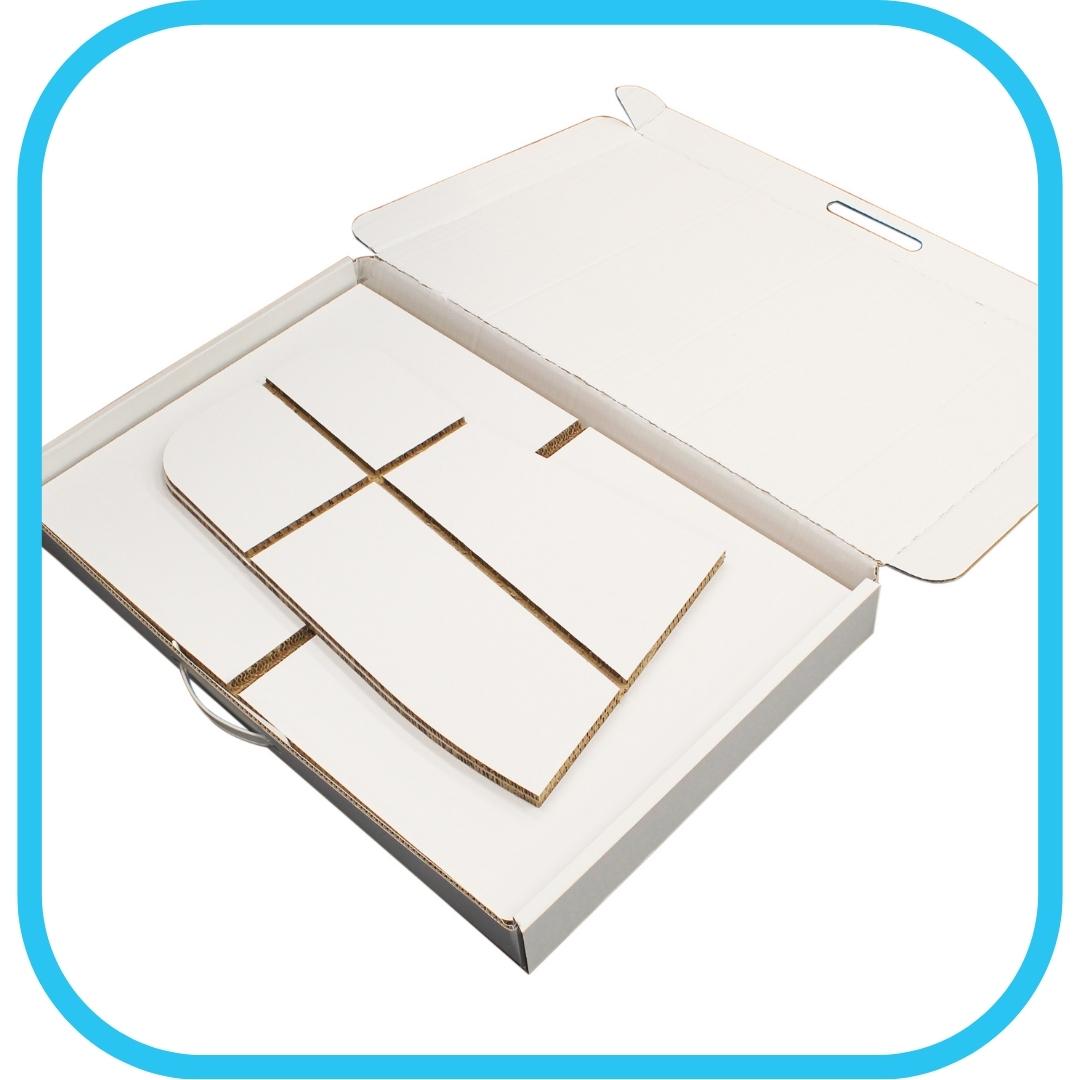 How to design artwork for a Roller Banner?
Artwork for a Roller Banner should be supplied as a high resolution PDF (unless otherwise specified) to the following specification
CMYK colour profile

Vector format/ 300dpi or higher

All text outlined

Images linked/embedded

Layers flattened

No crop or bleed marks required

Supplied at full size or 25% of the total size
We've created a few helpful videos to show how to design the artwork for your Roller Banner and the Natural Banners. If you would like assistance with designing your artwork we can provide details for a designer we work closely with who can help with your Banner design.


Why choose Go Displays for your Roller Banner?
Go Displays have been supplying the display industry for over 20 years, meaning that not only do we have extensive knowledge of the industry itself but also that we've been able to fine tweak the designing and producing of our display products. By manufacturing our Roller Banners in-house rather than purchasing ready-made from a supplier we've been able to fine tune the process and ensure that every Banner is produced with the high-quality and consistency that we expect. We quality check every Banner Stand before it leaves our premises by assembling the full display. Being a UK manufacturer not only allows us to be in complete control of the products we produce, but we're also able to pass on the savings we make by cutting out the 'middle man' to our customers, so you can be assured that we offer our Roller Banners at the best price possible without reducing the quality. At Go Displays we're proud to be a UK manufacturer, using UK suppliers for our materials where possible and reducing our carbon footprint.


Over 20 years in the display industry

UK manufacturer for over 50 years

Manufacture in-house, passing on savings to our customers

Quality control each product before it leaves us

Use UK suppliers where possible, reducing our carbon footprint

Quick response time, with dedicated sales team and online chat

Check artwork with customer before printing to ensure high-quality final result

Quick turn-around and delivery times available

Simple and easy to understand approach, no hidden details or fees