The Pro Hire Exhibition Stand collection is the ideal option within the Ultimate Event Organisers package for anyone looking to provide variety and ease to their exhibitors. As the name suggests the Pro Hire range is our rental display solution, meaning that neither yourself or your clients need to worry about storage or transportation of their exhibition stand. Hire stand solutions have become more and more popular over recent years for this very reason, leaving you more time to organise all the other elements of the event and your exhibitors more time to sell and promote their brand, resulting in a more successful exhibition.
The system itself is designed to be completely reconfigurable, meaning you can worm with our in-house product designers to create your or your clients perfect design. It also means that each exhibitor can have variation on their stand if this is something you're looking to offer. Alternatively, the Pro Hire can also be used to create individual exhibition booths for each company, depending on the type of event or needs of your clients.

When opting for the Ultimate Event Management Service as well as full installation and dismantle you also receive site audits and floorplans, and we will work with you to ensure you maximum the exhibition hall to its maximum capabilities to provide each of your exhibitors with an adequate space and premium display. We want all your exhibitions to be a success, so that as your event grows year after year, we can offer you an amazing service and final exhibition stand package along with a storage solution.
Manufactured using a strong aluminium frame, the system offers a sturdy display without compromising on the quality of the stand. Often with large, metal framed solutions there are limitations with the design and bespoke opportunities that can be offered. With the Pro Hire we can create those exhibition stands that really impress both the exhibitors and attendees by allowing you to put your own spin on the design and structure of the final display. The panels, cupboards, counters and more can be customised with your branding and design, so there are no missed sales opportunities to get your company name out there.

With the Pro Hire Stand you can also completely customise each exhibitors stand with a variety of upgrades and accessories. Elements including archways (with roof panels and downlighters), lockable counters and cupboards, integrated tables, TV monitor displays, lights, shelving and much more. Most of these items can also be customised with their own graphics, so your clients can maximise their brand exposure.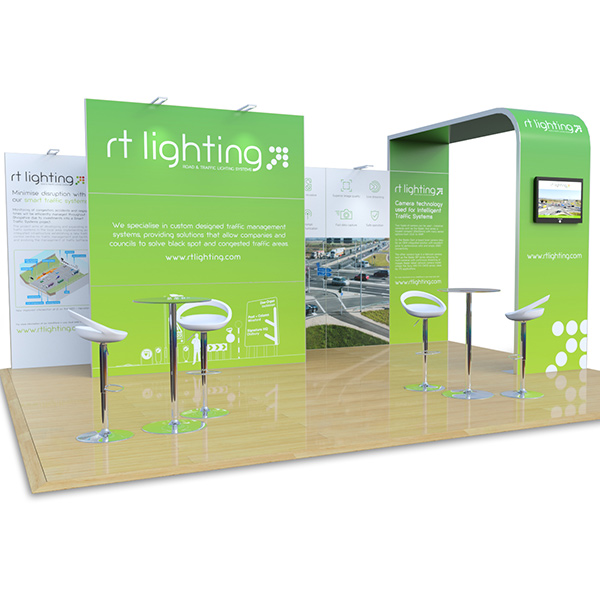 Customisable system - create your own design

Durable aluminium framework

Add tables, shelves, archways, cupboards, lightboxes and more

Create different shapes and sizes

Choice of panels; rollable panels, Foamex and SEG fabric

Graphics easy to attach to framework

No storage or transportation costs

Create any size stand; small or large

Re-usable, nothing goes to waste

Technology added through use of TV monitors

Reconstruct - change your stand layout or make your own

In-house product designers can create your ideal stand

Uses metal fixings for additional stability