Within our range of exhibition stands available to both end users and event organisers is the Pro Hire Exhibition Stand collection. Designed specifically to be a modular, reconfigurable system that can create both large exhibition displays and small booths, we can provide customised exhibition solutions for all clients. Within the Premium Event Management package our in-house team will be at your disposal for complete installation and dismantle of the displays, meaning that not only do you not need to worry about storing or transporting the stands, the build will also be taken care of. As your event grows year after year we're also able to offer a storage solution and yearly plan, where we will stored your Pro Hire stands and all components ready for any future exhibitions you have, which also means you can remove the stress of finding a new exhibition display and supplier each year.
The Pro Hire range is manufactured using a strong aluminium frame, all fitted together using metal fixings, creating both a modern and sturdy display. The construction of the framework also means that the system is modular; you can work with our in-house product designers to create stands that work for you, customising with your own flare and branding. We have also put together a selection of stands and designs that have been devised to showcase your clients and provide an impressive platform. You also have a choice of graphic panel finishes; rollable graphics and Foamex, which both attach the framework using hook & loop fasteners, or SEG fabric graphics, where the silicone edge feeds into the framework providing a seamless finish. All options for the graphics are easy to assemble and are all printed in-house to a high standard, ensuring that your clients branding, colours and design are immaculate.

Although the Pro Hire is a metal-framed display system it also contains an element of eco and recyclability, with the framework being re-used over and over, often the only thing that needs to be changed or updated over time are the graphic panels.
One of the many reasons Pro Hire is a popular choice with event organisers is the customisation capabilities of each stand by simply adding various accessories and upgrades. The Pro Hire Stands can include elements such as archways (with roof panels and downlighters), lockable counters and cupboards, integrated tables, TV monitor displays, lights, shelving and much more. Most of these items can also be customised with print and branding, so your clients can continue their design across the entire stand.
The Pro Hire Exhibition Stand solution has many benefits compared to the standard MDF displays often used in exhibition halls. Not only in the Pro Hire manufactured to be lighter, it's much quicker to assemble and is designed to be completely re-usable. Below are just some of the reasons to choose a Pro Hire Display Stand for your next event: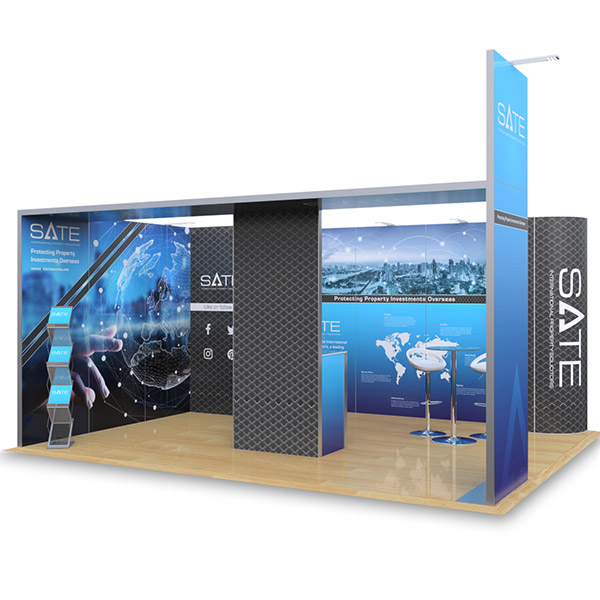 Modular system allows you to create your own design

Strong aluminium framework

Add tables, shelves, archways, cupboards, lightboxes and more

Create unique shapes

Bespoke sizes available

Choice of graphics; rollable panels, Foamex and SEG fabric

Easy to attach graphics

Saves on storage and transportation costs

Options to create both small booths and large stands

Re-usable, nothing goes to waste

Monitors can be added for interaction

Reconfigurable - change your stand layout or make your own

In-house product designers can create your perfect stand

Uses metal fixings for stability and longevity