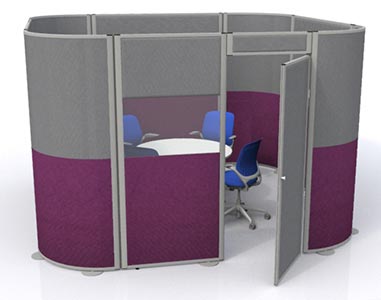 The deluxe range of Acoustic Office Pods deliver the perfect way to utilise your open plan office space. With five different designs of Acoustic Office Pods, we have plenty of options available to suit your layout. Each is available in a range of sizes from 3.2 metres wide by 2.4 metres deep all the way to 8 metres wide by 6.4 metres deep. This makes Acoustic Office Pods ideal whether you need additional private offices, break rooms or training areas.
The design of each of the Acoustic Office Pods is unique, so whether you are looking for curved corners, glazed panels or just very large office pods, we have plenty on offer. The Acoustic Office Pods feature at least a two colour tone and we provide a range of 48 different colours which you can mix and match to create the perfect combination. Furthermore, there is also the option to choose either silver or black paintwork for the framing of your Acoustic Office Pods.
The Acoustic Office Pods are further customisable as you can increase the size of them as and when you need simply by adding extra panels. Each panel in the Acoustic
Office Pods is simply linked together, making it not only simple to adjust the size, but also transportable should you require the space.
Go Displays Acoustic Office Pods offer a large selection to suit all sizes and budget requirements and they are all designed and manufactured on site at our premises in Peterborough. All the Acoustic Office Pods are manufactured in the UK and come with a full 5 year manufacturer's guarantee.
For more information on how we can tailor your Acoustic Office Pods to suit your individual requirements then please call a member of our trained sales advisors on 01733 232000 who will be able to talk you through the best Acoustic Office Pods for your business.



Why Buy Acoustic Pods from Go Displays?
Acoustic Office Pods provide a practical solution when you need to make the most out of the space you have available. Acoustic Office Pods are specifically designed to add style and to integrate effortlessly into your work space. Acoustic Office Pods are manufactured using a lightweight core and then surrounded by two layers of acoustic foam which is designed to soak up ambient noise from inside as well as from outside. This helps to make the Acoustic Office Pods perfect for use as office space, a break room or whatever you need.
Acoustic Office Pods consist of our acoustic and vision screens in any configuration you require. We create Acoustic Office Pods with a lightweight honeycomb core which is then pressed together under immense pressure to strengthen the panel. All of our Acoustic Office Pods are tested at The Sound & Research Laboratories to ensure they absorb sound as efficiently as possible. To finish your Acoustic Office Pods, you then have your choice of over 40 different fabric colours.
We allow you to customise your Acoustic Office Pods down to the last detail with the option to have your organisation logo printed onto the Perspex panels to really make it your own. Acoustic Office Pods are easy to setup, simply unpack the panels, attach the feet and link them together using the linking system.
Our experienced team of advisors are on hand if you have any further questions about our Acoustic Office Pods and they can discuss which design would best suit the space you have available. They can be contacted by phone on 01733 232000 or by e-mail at sales@go-displays.co.uk.