As an Event Organiser it's often important to source displays made from environmentally friendly materials for your clients, and the effect these have on our planet is becoming more and more apparent. At Go Displays, we work with a fibreboard called Xanita, which enables us to provide a high quality, strong exhibition stand display that matches, if not bests, the MDF equivalents on the market. By using the Xanita fibreboard to manufacture the Modulink, we're able to provide a 100% eco-friendly exhibition stand that is both fully recyclable and re-useable. Xanita board is a sustainable paper composite two core fibreboard that's ultra-lightweight and 100% repulpable, providing a strong, non-toxic product that allows us to create unique, bespoke products for our clients.
The Modulink is created using two main materials; Xanita Fibreboard is the main component used, creating the structure and main exhibition panels, and the steel bolts that are used to give the display stability (no glue). The Xanita board itself can be recycled or re-used at a future event when stored correctly, and the bolts can be re-used for other displays or purposes. The custom print on the exhibition stand is applied directly onto the board, so there's no additional material used there. When you opt for the no laminate, eco solution there is also no plastic in or on the display either.   
The standard height of the Modulink 2.3m, which will allow your clients stands to be seen from a distance and creates an impressive display. However, the flexibility of the Xanita fibre board means we can create bespoke sizes, shapes and designs, no matter how quirky or unique. At Go Displays we've always loved the challenge of creating a showstopping exhibition stand, where we can push manufacturing boundaries and capabilities, and Xanita allows us to do just that.

As the Modulink is Go Displays own design and manufactured exhibition stand it can only be purchased directly through us, where we create each stand to order. This gives you as an Event Organiser the opportunity to offer your clients customisation that you don't find with other display stand solutions. The display can firstly be printed either single or double sided print, providing the maximum display area for your exhibitors to showcase their brand. The system can then be supplied with or without laminate, depending on how eco-friendly you're requiring the stand to be. Archways, roofs, lighting, windows, shelving, TV monitors and many other upgrades can be added to a choice of straight, l shape and u shape displays to ensure that your clients can make their stand to their own requirements and desired look.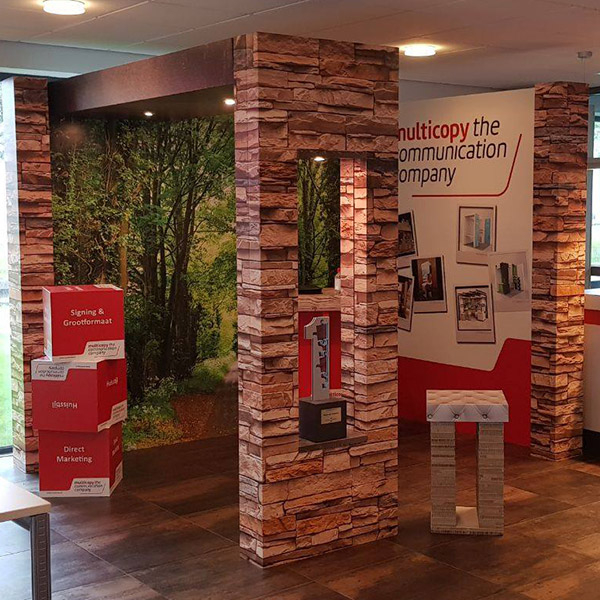 Completely Recyclable & Eco-Friendly

Alternative to MDF – strength & longevity

Printed directly onto the Xanita board

Create different, bespoke shapes

Custom sizes available

100% customisable - nothing we can't create!

Modular – add and remove panels when required

Environmentally conscious & sustainable

Available with or without laminate

Double Sided and Single Sided print

Technology can be integrated through TV Monitors

Designed & Manufactured by Go Displays

Durable and water resistant

Add arches, downlighters, 3D elements, windows and shelves

Uses metal fixings for stability

Re-usable exhibition display solution