Are Exhibitions Still Relevant in the Digital World?
What Does the Digital World Mean?
We can all agree that we are now in the midst of the digital age. Rather than being driven by the fire and ovens which defined the industrial age, instead it is computers and information which are driving us forward. The coal mines and steel factories which once supported communities and created new ones are now all but obsolete. As the digital era of computers evolves, industries and practices which we once accepted as the norm will gradually be phased out in favour of more efficient methods. The factory, a common sight in most countries across the western world was once the lifeblood of the nation. Now, with the advent of machines and automation, the whole process is streamlined, drastically reducing the necessary input of labour.
In that sense, change is inevitable and it is happening all around us. For example, print newspapers were once delivered to every home on a daily basis, brimming with news from across the country. Now the industry is ailing and struggling to compete with free, and easily accessible versions available online. In the same vein, interest in shopping on the high street is also waning. For many, why spend the best part of a day trapesing around busy town centres when goods can be ordered with the click of a button online? The events industry is another, seemingly under threat. Where is the benefit of travelling hundreds or even thousands of miles for an event, when e-mail and video-conferencing now exist?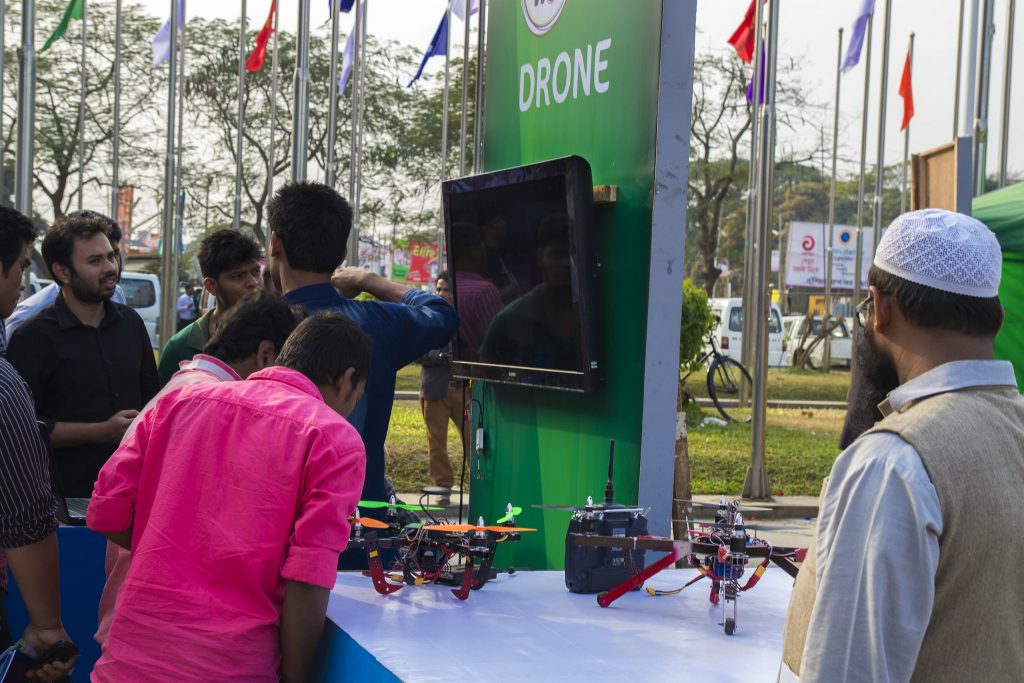 The Future of Exhibitions in the Digital World
One important point to keep in mind is that while manufacturing may no longer an integral part of the digital era, it still exists. Very few of the practices and methods which were once so crucial became obsolete so fast. The same can be said for newspapers, the high street and event marketing. While their demand may have dropped due to new technology, they often find ways of adapting to survive. The print industry now offers digital versions. The high street is underdoing rejuvenation to highlight the value of visiting the store. Then, events and exhibitions are embracing digital technology, rather than competing against it.
For exhibitors and purchasers, it is not time to give up on exhibitions and display stands. It's true that video conference calls allow us to connect with contacts half way across the world. But how can you create those contacts without ever getting your foot in the door? It's true you can reach out to more people in a few hours than you can at an exhibition. But how many of these e-mails fall into a spam folder or leave a poor first impression with a potential new client? It may seem like we can conduct our lives through a computer screen, but human interaction will always be an incredibly valuable tool.
The Advantages of Committing to Exhibitions in the Future
There are many benefits of creating and building relationships in person. First and foremost, establishing a positive first impression is crucial for any future development. If a potential client gains a negative potential insight into the company, the chances of them later doing business is significantly decreased. For small businesses in particular, being able to speak to fellow industry professionals in person provides them with the opportunity to demonstrate that there is potential. If the client is looking to establish a partnership for the future, they will be looking at the people they will be dealing with rather than just the business.
When announcing a new product, even with the diverse methods which already exist, exhibitions and trade shows remain an extremely effective marketing tool. These events are not just attended by other businesses, they are visited by professionals, journalists and bloggers. Securing a re-tweet or share from them online often proves to be a struggle. However, launching that product live and being able to get it into their hands there and then does not require an exuberant marketing campaign. Rather than committing tens of thousands to PPC, allow your product or service to do the talking.
One benefit which is often forgotten comes in the form of the social events after the show floor closes. Nowadays, these events are less about buying and selling in the day. Instead, it provides the opportunity to develop some ideas and get to know the people they could be working with. After establishing a rapport with a new contact, the social events in the morning, midday and evening provide ample opportunity to solidify some of those contacts.
How Are Exhibitions Adapting to the Digital World?
New media such as a video and social media have been beneficial innovations for exhibitions and trade shows. While there is the potential in the future for wholly digital trade shows, it remains to be seen how they could re-create the vital social aspect of these events. Instead, exhibitions, their attendees and their display stands are all adapting to a changing world. These events are seldom about who has the biggest display stand anymore. The attendees often value quality over quantity and many appreciate the hidden values of companies which are not lumbered by a big brand name.
Exhibitions and trade shows provide unrivalled access to companies such as these. Online, they may be hindered by Google algorithms or a lack of followers. However, on the show floor, they stand equal with major names in the industry. This coverage can even be harnessed to enhance their digital presence too. Clever competitions can be used to highlight social media, while establishing a rapport with a blogger may garner valuable referrals.
When sat behind a computer screen, it is impossible to see the value which exhibitions still provide. Important contacts and connections are made and nurtured, but not shouted across social media. These relationships can open doors to avenues never considered and perhaps were never possible when operating exclusively in the digital world.
Go Displays are UK-based manufacturers of display stands, exhibition stands and office partitioning. Creating bespoke display stands for a variety of clients has provided us with incredible insight into exhibitions. To find out more about how we can enhance your exhibition experience, please call 01733 232000 or send an e-mail to [email protected].