Tradeshow Booths – Ideas for 2020
As we're going in to 2020, it's time to do it all again and get ready for the exhibitions planned for the year ahead. As the years have gone by exhibitions and tradeshows have evolved, as have the displays and designs available to us today.
With so many options available and new trends being introduced, you will need to decide which ones are right for you and which will showcase your business in the best possible way.
But what is popular for 2020 and what do you need on your exhibition stand?
Creating an eco & sustainable display
Going green and thinking about the environment is being brought to the forefront of our minds. Due to the media coverage, online discussions and blogs the topic is hot. Which means more and more businesses are switching to sustainable options to go green and save on exhibition waste.
Over the last few years we have a seen an increase in eco-friendly stands and solutions available, so 2020 is the year to take full advantage of the alternatives available.
Eco-friendly doesn't mean you will be compromising, eco means you can display your complete custom made, high quality display stand with pride as you support the planet too.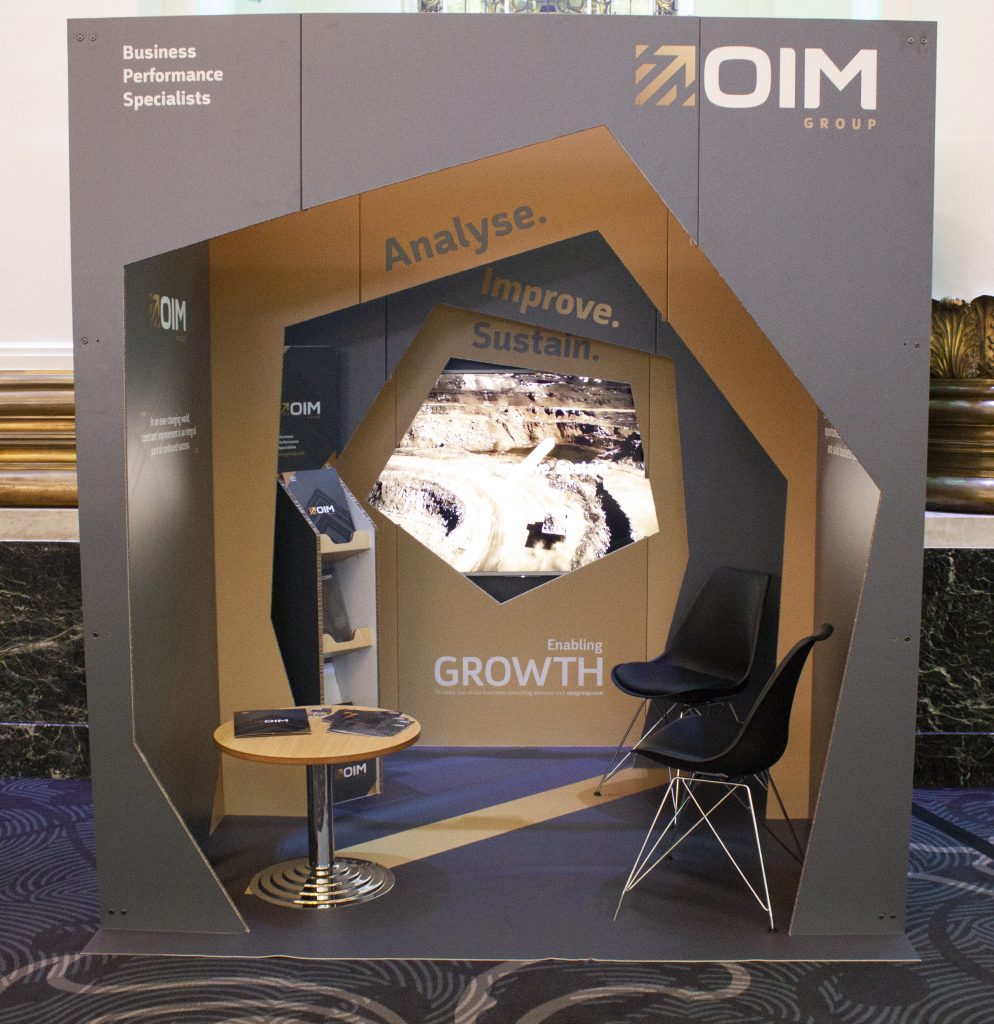 Flooring
If you have a fantastic stand, don't let the bland flooring options bring you down. The advantage of having a stand space is to use the space as a customisable canvas and create a floor to ceiling display.
Flooring options can be carpet, printed stickers and durable plastic with a range of neon edges to make you stand and welcome guests to your space in style.
Add Interaction
There are so many ways that you can add interaction to your stand design. You will need to find a way to bring the interaction to compliment your brand and ties in with your business and exhibition message.
Use accessories such as tablets, monitors or go big with a game to draw in the interest and add a unique edge.
Box room / Cubicle Display Stands
A box room is a simple yet effective design and allows you to create multiple designs for just one stand space. With a stand like the cubicle design, we advise to arrange an assemble and dismantle service to take the pressure off and leave the hard work to your suppliers.
A box or cubicle stand has some fantastic benefits, such as being able to display a mix of prints and messages throughout the inner and outer walls. Use this space wisely, to grab attention and lead them into another world as you use different prints for the inside of the stand.
Adding seating areas and tables is a great way to transform the space into an area to introduce your business and immerse yourself with business talk.
Reuse things from your office or working environment
Re-using and up cycling is all the rage. Giving a new look to an old product or piece of furniture is a great way to go if you have a smaller budget but still want to add certain aspects to your stand.
Bring things from your office, workplace or home and turn them into an essential feature of your display. No one will ever know.
Create a focal point
Regardless of the stand size you have, having a focal point and a feature that will draw people in will always be an advantage. The focal point could be your stand, banners, a product or sample, which ever you choose make it stand out and be distinct.
Use your stand to show what you're capable of
As we touched on previously, your tradeshow stand is yours to personalise. It's a chance to show your business in a way that no one has seen it before. Use the space to show what you and your brand are capable off, going above and beyond to make your stand one to remember.
With one or a mix of the trends above, use them to your advantage and display the best version of your business.
Shop Exhibition Stands at Go Displays