How to refresh your exhibition stand!
Like most things in life, they become tired, used and outdated after a certain amount of time. Most of the time we will update them and give them a new lease of life. This shouldn't be forgotten when we look at our exhibition stand.
A good exhibition stand will last you years, but that isn't to say that it doesn't require a touch of TLC to keep the stand new, exciting and relevant to your business. How do you refresh your exhibition stand and what changes can you make – this is where we come in play.
Replace your graphics
If you're on a smaller budget but still want to make an impact at your event, opt for new printed graphics. Investing into another set of panels is the most cost effective way to spruce up your display and give it the kiss of life it deserves.
The artwork you intend to use should be planned, thought about and portray your business and chosen message in the best way. Your design will be one of the factors that will grab attention and fingers crossed land you those brand new customers.
Amend the stand you have
Making amendments to your stand is easier than it sounds. Majority of the stands out there are great as stand alone displays but with a bit of stand design can be transformed into a different shape or configuration.
Linking Pop Up displays together can be accomplished by adding a linking panel to the frames. In some instances, you can mix and match heights along with straight and curved displays to create a display of beauty.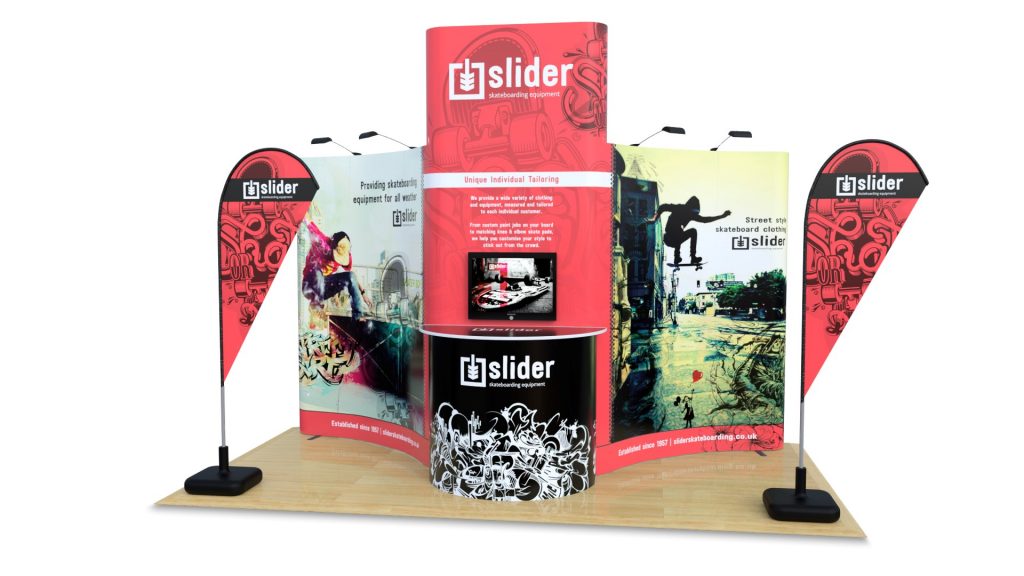 Add exhibition stand accessories
The finer details can make all the difference. Going on a stand accessory hunt can be an eye opening and slightly daunting task, as the selection will continue to grow and ensure you are spoilt for choice.
When choosing an accessory, you will need to consider how will it benefit you, will you use it again and what impact will it make? Full custom branded accessories are a brilliant concept, as the product becomes the perfect marketing piece as well as being a functional part of your display. Add your logo and branding and it will speak for itself.
Go all out!
When the other 3 options just won't cut it – start from scratch and go crazy. Well, not too crazy! Go back to the drawing board and plan a brand new stand from backdrops to accessories and lighting. If you have the luxury and budget to start again, it can be a stressful but amazing journey as you slowly piece together your dream stand.
If the stress is too much, have a look in to hireable stands and also pre-designed stand bundles that give you the full package to start your new exhibition journey.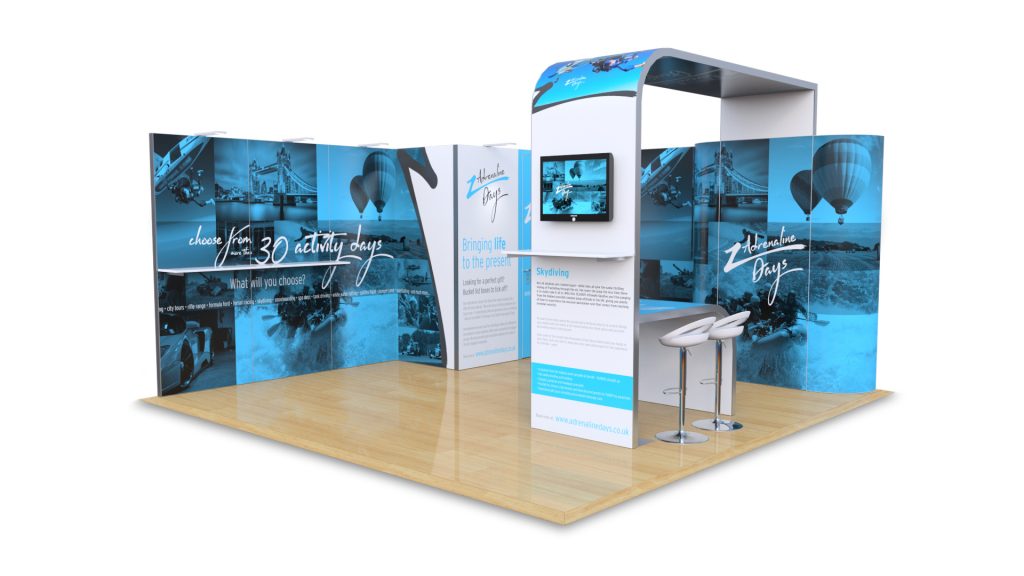 With plenty of food for thought, this will be helpful whilst you think about which route you will take at your next exhibition.
Our team are always on hand to help with the planning – we love a challenge!