Our Guide to Cost-Effective Marketing Techniques in 2017
Promoting Your Business Using Marketing Techniques on a Budget
Efficient marketing requires meticulous care and attention to get right, otherwise there is the risk it becomes a money sink. For established businesses, this may be filed under expenses, but for small businesses it becomes integral for growth. Especially when starting out, effective management of marketing techniques can help to significantly increase revenue. While there are plenty of expensive options available prepared to hold your hand, it's cost effective solutions which are required. Creating a brand is about much more than just throwing money at it. Fortunately, there are plenty of options to promote without consuming your budget.
Branding essentially concerns reputation management and this requires a careful balancing act to get right. They say any news is good news, but developing a poor reputation is a guaranteed way to limit the potential of your business. However, growing a positive reputation both online and in the local community helps to generate leads far into the future. Not only will it help to promote your company in the first place, but it will also help to secure the trust of first-time buyers.
Build from The Ground Up – Think Locally
Any company needs solid foundations and there are a variety of cost-effective marketing techniques available which can help. Rather than ploughing money into massive advertising campaigns, look closer to home for opportunities to promote. Not only is this cheaper, but with a bit of care and attention, you can gain direct access to your target audience. One of the ways in which this can be achieved is by researching and attending local events. The emphasis here is on local. National events can provide incredible access to industry professionals, however, the cost of the pitch may not be worth your investment at this point. Instead, look towards local fayres, exhibitions and trade shows where you can set up a small stand and start to get your name out there.
Exhibitions can be an expensive option, especially for a small business. Although, with careful research, there are plenty of events available which can be attended for a reasonable price. On top of that, they have the unique advantage of being able to provide you with unprecedented access to your target audience. Getting out there and speaking to people remains one of the best ways to get your ideas across. While a website is convenient, it is important to consider whether your target audience is likely to buy online or in person.
Make the Most of Social Media
If you have not started making your presence known on social media yet, then there really is no excuse. Not only will it not cost you a penny, but it is the ideal way to begin building trust. Even with all the security surrounding ordering online, people are still more likely to buy from a name they recognise. Paid advertising campaigns can shove your name in front of people's faces, but utilising social media shows your human side. Everybody appears to be attempting social media these days, so it is important to remain unique. Photos and videos are excellent (and free) tools available to show what the company is doing. With proper scheduling in place, it is also a great medium to develop excitement for an event you are attending or a new product which you are launching.
Growing Your Standing With Google
For any fledgling website, driving traffic to the site is often one of the biggest obstacles. Social media can be used in tandem with these, so be sure your tweets and status updates aim to drive people towards your site. Meanwhile, boosting where you stand on Google is all about showing the Google algorithm why your site is trustworthy for a certain keyword. The trick here is to encourage other websites to link back to you, which essentially tells Google that others like your page. This process can be long and tedious. However, a good placing on Google can drive substantial traffic to your site. For more detailed tips on how to achieve this, there are a huge amount of resources out there online.
Developing a Rapport
Whether the marketing techniques you choose are online or in person, the most important aspect to keep in mind is that you should be developing a rapport with everyone you speak to. Whether it is a customer or someone just interested in the company, you never know which opportunities might open in the future from a single conversation. Networking is tried and tested and does not need to take a chunk out of your budget. Even if you are not comfortable with attending networking events, you should keep the idea of promoting your business in mind when speaking to absolutely anyone.
Business cards are always excellent to have on you as you never know which person you meet could drastically change your business. Meanwhile, if you are hosting presentations and starting to get your name out there, then consider investing in banner stands. These are relatively cheap to buy, easy to use and simple to transport. This makes them an excellent tool to have, wherever you are promoting the business. Rather than just another suit, you can provide context as to the products and services you provide.
Still Struggling? Outsource. 
As we covered at the beginning, efficient marketing is not something which you can just glance at. While it is not necessary to throw money at the problem, effectively utilising marketing techniques requires an investment of your time. If there are aspects which simply take up too much of your day, look towards external sources who can take care of things for you. Freelancers are abundant online, so find someone reputable and pay them to give you a hand. This will work out significantly cheaper than employing permanent members of staff at a time when the budget simply is not there.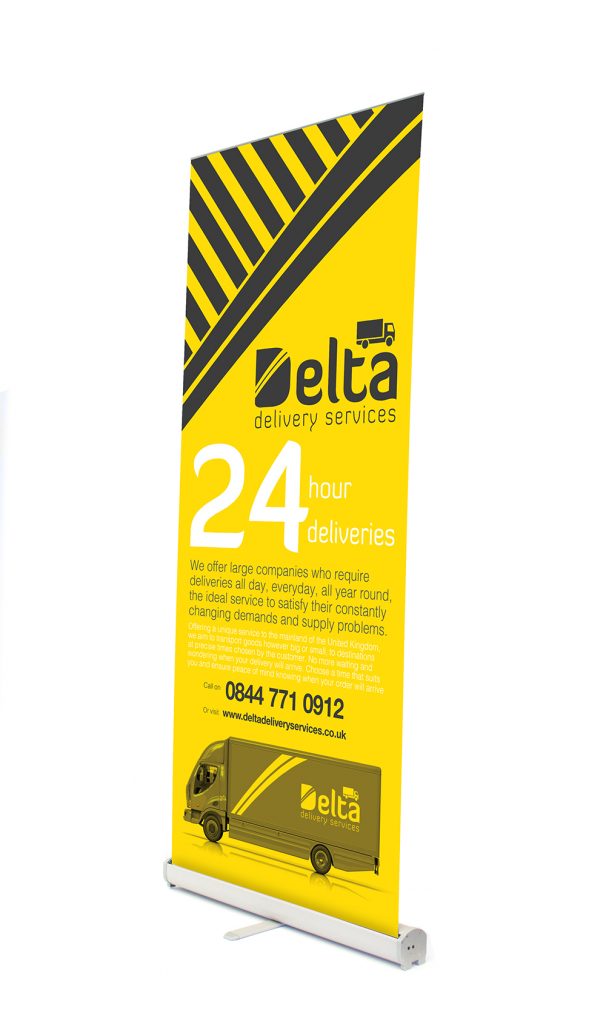 Go Displays are expert manufacturers of exhibition stands and display tools. We have been working with companies for many years to find solutions to help promote their brand. With exhibition stands, banner stands and pop up stands, there are many ways in which we can help. To find out more, please call 01733 232000 or send an e-mail to [email protected].