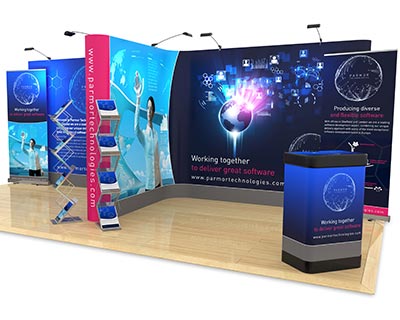 As a Pop Up Stand manufacturer we are able to meet customer specific needs with Bespoke Pop Up Stands. We pride ourselves on our ability to take our clients personalised display needs and design them the perfect exhibition stand. For the last 40 years we've worked very closely with our customer to ensure their Bespoke Pop Up Stand is exactly what they need!
Not only do we offer a Bespoke Pop Up Stand service, we also offer a Bespoke Design service. So not only can we design the layout of your exhibition stand, but we can also design the artwork for your Bespoke Pop Up Stand. Pop Up Stands are the best way for your company to be noticed and are a true favourite for portable displays because they're so easy to use. Portable, lightweight and very easy to travel with, the Pop Up Stand is a great choice for trade shows and exhibitions. Affordability also comes into play as they can be used over and over as you travel to different shows.



Why use a Bespoke Pop Up Stand?
Bespoke Pop Up stands are tailor made to your exhibiting space so your organisation can make the best possible impression. Here at Go Displays, we are committed to manufacturing, printing and dispatching your Bespoke Pop Up stand to you within 72 hours after receiving your order and artwork. All of our Custom Made Pop Up Stands are produced at our site in Peterborough, meaning we can offer lightning quick delivery without compromising on quality.
We design all of our Pop Up Stands to be as lightweight and compact as possible, making them simple to pack away and to transport from each event. All of our Bespoke Pop Up Stands come complete with a relevant number of Pop Up Cases so even transporting large displays is made easy. We are committed to designing displays which are easy to construct so you can focus on how you are exhibiting. When setting up, literally pop up the frame, clip on the graphics and you are ready.
Bespoke Pop Up Stands are the best way to make the most significant impact out of the space you have available. Depending on the design and options you pick, Custom Made Pop Up Stands feature a large advertising area as well as portable display stands to truly equip your display.
Need help designing your Bespoke Pop Up Stand?
To finish your Custom Pop Up Display Stand, we provide our own Graphic Design service which is available to all of our customers. We offer a range of different services from re-sizing artwork you already have prepared to bespoke complex designs where we produce all of the artwork for you! We understand that selecting the right artwork can be hard, so after deciding on your Bespoke Pop Up Stands, why not let our team of Graphic Designers finish your completely custom display and take the stress off.
If you are working to a budget, then we provide pre-made templates designed for individual industries as part of our Graphic Design service. All you need is your organisation's logo, text of your choice and some images, then we will do the rest for you.
Even if you are struggling for certain images for your Bespoke Pop Up Stand, you can check out our extensive stock image library which contains a wide variety of high resolution images for you to utilise.