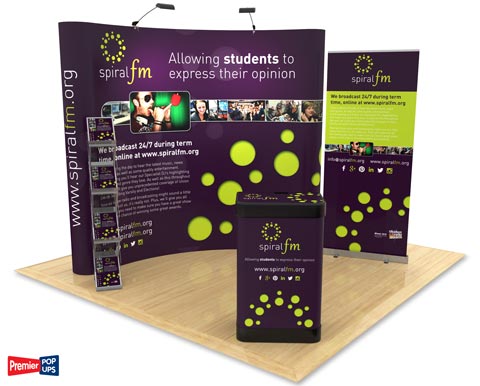 We have created a huge selection of exhibition stand bundles which are pre-designed to fit a variety of exhibition spaces. Simply find out the size of the pitch provided for your exhibition, then find the right exhibition stand to fit.
Each exhibition stand design features a variety of accessories which are designed to enhance your company and your display stand. Combining this with elegant graphic design provides a perfect platform for your business to promote its products and services at upcoming exhibitions. Every element of the exhibition stand design can be tailored to suit your aims and objectives, for example, utilising one display for context on what your company does and then another for an outstanding visual focal point.
If you still cannot find the right design for your display, then give us a call on 01733 232000 or use the live chat below and we can create a bespoke exhibition stand design for you.



Why Buy an Exhibition Stand Bundle from Go Displays?
An exhibition stand bundle is a great way to combine display tools together to create a truly unique display stand. With each bundle you can combine our staple roller banners with your choice of Streamline, pop up stand. Each display bundle is available with various accessories such as leaflet dispensers to give you the complete package when exhibiting.
By creating each exhibition stand bundle in house at our premises in Peterborough, this ensures we can develop a consistent design across each product in the bundle. This allows you to be creative a create a completely unique design for your display stand so you can shine amongst the competition. When printing each product included, we only use high quality inks and laminates so the graphics are as crisp and clean as you would expect.
Despite many different components in each bundle, we have designed each to be as easy to setup as possible. So regardless of large your exhibition stand is, you can still expect to get your display set up as soon as possible.
Need help designing your Exhibition Stand Bundle?
We offer a bespoke custom made graphic design service which can be included with any exhibition stand bundle whereby you can work with our team of in-house graphic designers to develop your idea for a display stand. If you would like you to find out more about how we can help with your bundle, then please get in touch.
By opting for our graphic design service, we create bespoke designs for the each display stand bundle to best demonstrate your organisation. Multiple products are included in each bundle and by choosing a bespoke graphic design, our team can create a graphic design which is consistent across each product. As a direct result, you can get creative and develop a design which would not be possible with a single display.