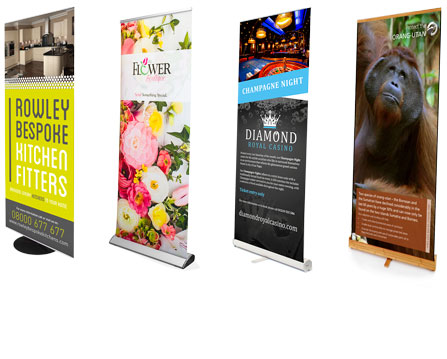 With Roller Banners, there are no limits to where you can use them. They are designed to be extremely portable and versatile, and provide you with a display you can use over and over again for all your events, exhibitions, sales presentation and conferences. Pull up banners are a great business investment for promoting and marketing your brand, service or product.
Roller banners are a fantastic alternative to other more expensive display stands that will guarantee the same level of results, especially if you're on a budget. The clean and compact design of our pull up banners makes them ideal in many environments such as complementing large exhibition stands or as a standalone.
The great thing about roller banners when you order from Go Displays is that we can have it dispatched to you within 48 hours once we receive payment and your artwork. When manufacturing the banners from our site in Peterborough, we use high-quality inks and laminate to create a crisp and clean finish every time.



Need help designing your Roller Banners?
We offer a comprehensive in-house graphic design service that is available with all our roller banners. Whether you're looking for pull up banners or a full-scale display stand, we can help ensure your design will promote your business in the best possible way. We know that designing the artwork can be the most stressful part of the order process, so our aim is to make this smoother for the customer by working closely with you to develop a design, giving you a display which you are proud to use to present your business.
Not sure what kind of design you want for your roller banners? We also have a range of pre-designed templates, which means you can choose from our catalogue of designs which have been specifically designed for our roller banners. We add in your logo, the text of your choice and your images to the graphic panel, and it is as simple as that. This is a great service for anyone working on a tight budget!
If you can't source your own images or you're worried that what you have won't work on your roller banners, then Go Displays have a solution! By using our graphic design service, you have access to our extensive image library, consisting of a variety of images to suit all sectors, all of which are of the highest quality and can be used on any of our printed pull up banners.
Why Buy Roller Banners from Go Displays?
Roller Banners are a well-established marketing tool for any company, especially if you're looking to expand your brand awareness and grow your company. The all-in-one design of these pull up banners makes them quick and easy to put up and taken down again. Our banners are highly versatile and can be used in various scenarios, which in turn allows you to maintain a professional appearance regardless of your environment. Roller banners are also the ideal accessory to add to your full-scale exhibition stand, adding that personal finishing touch.
We have created our roller banners to ensure they can look both innovative and professional with the right design. If the design of your display scares you, don't worry. We have an in-house graphic designer who can work closely with you to produce the perfect banner stand, so you have a display you are proud to use to show off your business.